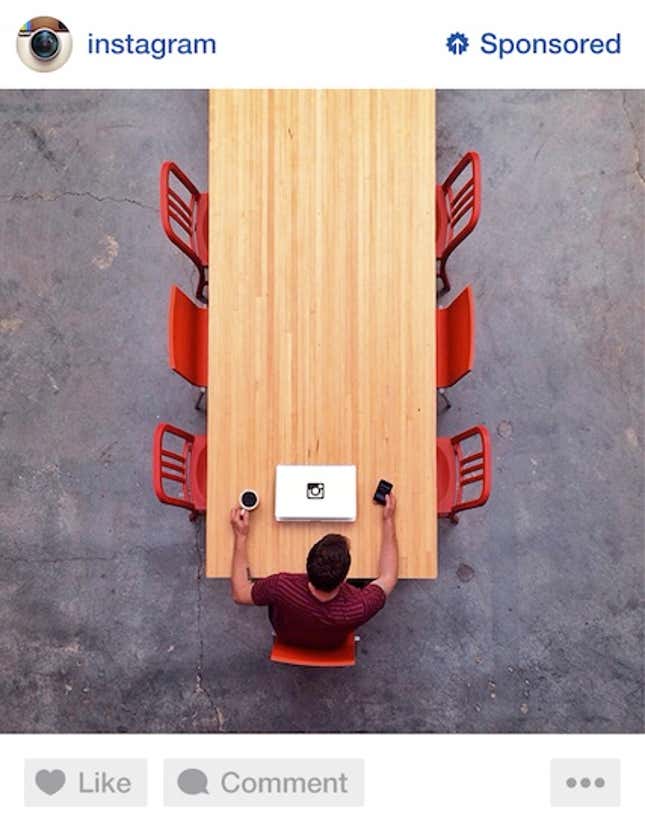 Advertisements are coming to Instagram, as we predicted. To get users accustomed to the idea, the most innocuous "ad" ever (pictured above) will appear in every user's feed at some point next week, the company just announced.
Because this isn't really an ad for anything, users are unlikely to freak out as they might if it were, say, a promotion for fast food or cigarettes. But that doesn't mean there won't be a backlash. So the company is going to provide people who use Instagram with more information on how ads will work on the service, via the "sponsored" link at the top of the ad.
Instagram promises its ads will be different in two ways: The first is that, to start, the company is only dealing with brands that have already demonstrated a facility for tastefully using Instagram. While the company hasn't announced who will be part of its initial rollout, it's a safe bet almost all of them will come from what are currently the top 50 brands on Instagram. Those include Starbucks, Nike, and the National Basketball Association. Update: Instagram's "About Ads" page is announcing which advertisers will be part of its initial trial. They include Adidas, Ben & Jerry's, Burberry, General Electric, Lexus, Levi's, Macy's, Michael Kors, PayPal and Starwood.
The second way advertising will be different on Instagram is that users will be allowed to hide ads they don't like, and leave comments about why they didn't like them. It's an enlightened but risky move on the part of Facebook, Instagram's parent company: Are brands ready to be trolled that hard?