Attention, Kmart shoppers. Thanks to Donald Trump's trade war with China, your prices might be about to go up.
Sure, the cost of everyday goods haven't noticeably increased so far—in no small part because the administration adroitly avoided Chinese-made consumers products in its first round of tariffs.
But as Trump escalates the trade war, as he did on Monday, it's getting harder to shield consumers from higher import taxes. This latest round of tariffs, which going into effect on Sep. 24, will hit $42 billion worth of consumer goods, according to Bank of America/Merrill Lynch estimates.
So how might that feed into inflation? One clue, argues Ian Shepherdson, chief economist at Pantheon Economics, comes from the fate of the humble washing machine. The "very rapid pass-through when imported washing machines were subjected to tariffs earlier this year sets a disconcerting precedent," says Shepherdson in a note.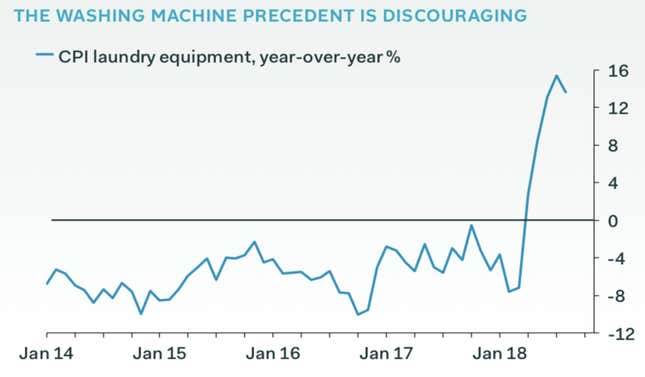 Trump's 20% tariffs on washing machines, which went into effect in January 2018, included all imports, not just China's. Still, China manufactures a huge share of US consumer goods. As you can see in the chart above, which shows the consumer price inflation for washing machines, since the tariffs went into effect, prices have soared by around 15% versus the previous year. (Overall, consumer prices have risen by less than 2% throughout 2018.)
Retail tends to be a high-volume, low-margin business. If US importers have to pay even a 10% tax to the federal government to import Chinese consumer goods (or to competing manufacturers that raise their prices), they may well pass on those higher costs to everyday Americans. Assuming the latest 10% price increase hits only 5% of the consumer price index, it would matter both to the Federal Reserve and US shoppers, says Shepherdson.
However, one big offsetting factor is the Chinese yuan's steep slide—it's lost more than 8% against the dollar since April. That will dampen a lot of the effects of Trump's 10% import tax.
It's no surprise that the Trump team has tried to avoiding slapping tariffs on consumer goods from China. Americans long ago got used to buying socks, Christmas decorations, garlic, and myriad other goods on the cheap—a luxury largely thanks to Chinese factories (and, in the past, the Chinese government's keeping the yuan artificially cheap).
And of course, many of US consumers also happen to be voters. A sudden spike in store prices could put provoke backlash against Trump's Republican Party in November's elections. Plus, US economic growth—driven largely by robust consumer spending—is a major selling point for Trump. Not only might inflation stoke voter resentment, it could also induce Trump's bugbear, rate hikes from the Federal Reserve. Higher borrowing costs would likely curb the current expansion.
That said, for now, Trump's latest trade war salvo involves tariffs of only 10%. That rate will jump to 25% only in January 2019, after the elections and the holiday season, when consumers spend big on Black Monday sales and presents. And the timeline on his bigger threat—to slap tariffs on all of the remaining $267 billion worth of imported goods from China, most of which are consumer goods—isn't certain. It's also unclear how far the Chinese authorities will let the yuan keep dropping (and, therefore, further offsetting the impact of tariffs). Given China's own inflation concerns, probably not far. What does this all add up to? If and when Trump's trade war does start punishing the American public, it'll be well after voters' big chance to do much about it.