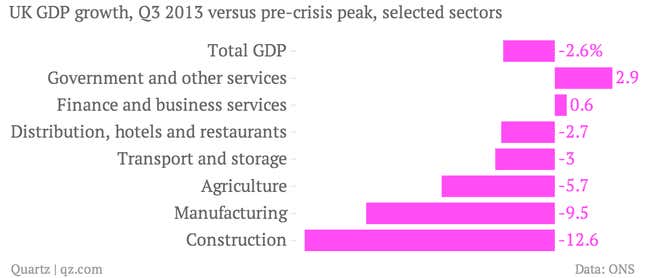 The UK economy grew at its fastest rate in three years in the third quarter, expanding by 0.8%. The data confirmed a string of positive news out of Britain this month, from car production to housing prices to purchasing managers' indexes.
Recently released minutes from the Bank of England's interest rate-setting committee show that they are as surprised by Britain's "robust recovery in activity" as anybody. After all, six months ago the talk was of a potential triple-dip recession.
But this "robust" growth isn't as impressive in a larger context. The British economy shrank by more than 7% from its pre-crisis peak in 2008 to its lowest ebb in 2009. It has yet to regain all of this lost ground, and it will take another year at the current rate of growth to do so. The recovery is also not as broad-based as policymakers would like. The country's enormous service sector is what has been driving the bulk of the growth; for instance, financial services, hit hard by the downturn, is now humming along above pre-crisis levels.
By contrast, manufacturing and construction remain well below their previous peaks, and efforts to boost exports are falling short of targets. This is reflected in the diverging fortunes of London and the rest of the country, with the service-centric south outpacing the manufacturing-oriented north. A spring in the step of London real estate agents and bankers, both vilified for their role in the UK's previous boom and bust, is enough evidence for some that the UK's recovery is not as durable as it may appear.