Shuanghui International's $7.1 billion purchase of US pork giant Smithfield was a US milestone for many reasons. Not only was it the biggest investment ever by a Chinese company, it also was proof that the US government could make impartial decisions about Chinese investment. And it meant that 70,000 US workers are now in the employ of Chinese-owned, US-based companies—more than twice the pre-Smithfield number—according to Rhodium Group, an advisory firm.
But the Shuanghui investment is also part of a more monumental shift underway in China: The biggest Chinese investments increasingly come from non-state owned enterprises (SOEs). This uptick comes as private (meaning, not owned by the government) companies are anticipating structural shifts in the Chinese economy, says Rhodium's Thilo Hanemann, and are taking bold steps to stay competitive.
"Private firms are simply better and faster at realizing that they really need to make those investments in order to stay competitive overseas and in China," Hanemann tells Quartz. "They're also to quicker than SOEs than understanding the commercial logic of the coming structural adjustments and what they need to survive."
Past blockbuster Chinese investments in the US have been made largely by state-owned companies. For instance, when China Petrocehmical Group (aka Sinopec) bought a one-third stake in Devon Energy's shale assets for $2.4 million in January 2012, China National Offshore Oil Corporation (CNOOC) bought Nexen's US operations for $1.5 billion earlier this year.
Along with Dalian Wanda's $2.6 billion purchase of AMC Entertainment in 2012, Shuanghui's deal marks a big break with this trend, as you can see in the chart below. Rhodium's research shows that so far this year, 74% percent of the $12.2 billion in US investments by Chinese companies has come from non-state companies. In the past, usually only between 30% and 40% of investment value came from non-state companies. This trend favors sectors like entertainment, autos, transportation and real estate, rather than the resources investments typically made by SOEs, says Hanemann.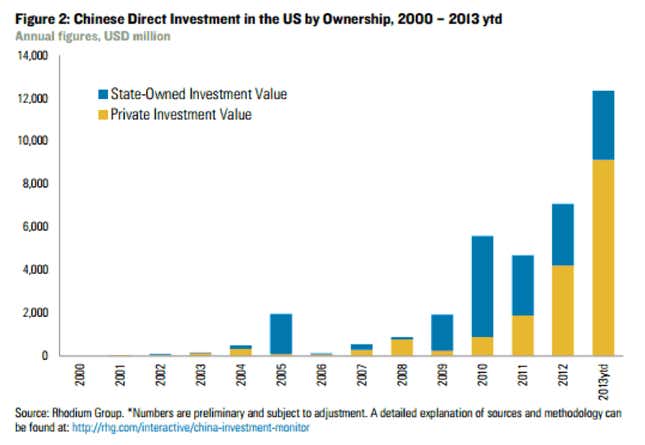 This shift is happening even as the Chinese government has made only slight improvements to the bureaucratic thicket that prevents private companies from investing overseas. Due to concerns about capital flight and unwise investments by Chinese companies, a handful of ministries much approve any deals. The commerce ministry has also raised the deal size threshold for private companies' applications in recent years, requiring fewer approvals for smaller deals. But there are still a considerable number of bureaucratic barriers that make Chinese buyers unappealing; their deals take longer than those of other foreign bidders and are more likely to fall through.
That suggests that, as the government reforms its approval regime, momentum in private outbound investment in the US will build even more.