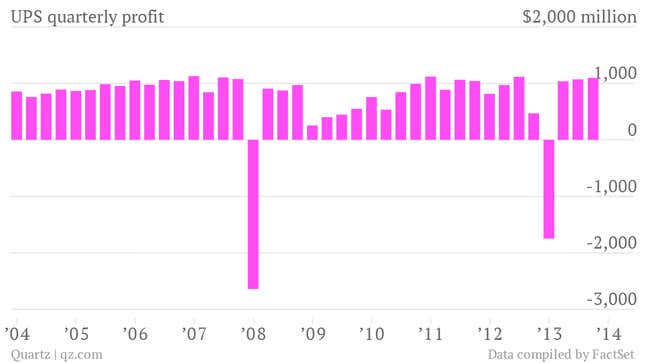 The numbers: UPS narrowly beat analyst estimates, reporting earnings of $1.16 per share for the third quarter versus estimates of $1.15. Strength in US e-commerce and stronger exports in Europe, the company said, were both part of why total revenue rose 3.4% from the same quarter of last year to $13.5 billion.
The takeaway: UPS's earnings aren't unexpectedly positive, but shares are still trading more than 2% higher in pre-market trading. Interestingly, Europe was key to UPS's performance this quarter. European export shipments rose almost 10% thanks to some pickup in the European economy, even as Asian exports were flat.
Meanwhile, the company acknowledged concerns that US shipments—up 2.3% in the third quarter—might be weak in the fourth quarter, traditionally the busiest time of year for logistics companies. "Looking to the fourth quarter, although some major retailers have expressed caution about holiday spending, they still expect robust online sales. The late Thanksgiving creates a compressed peak season, which presents some operating challenges," said UPS chief financial officer Kurt Kuehn. "Nonetheless, we are confident in UPS's ability to successfully deliver the holidays."
What's interesting: UPS predicts it will pick up more than 34 million packages on its busiest day of the year: December 16. That would be an 8% increase from the number of packages it picked up on its peak day during holiday season 2012.