Google's new London office, scheduled to open in 2016, will have an open-air swimming pool, an indoor football pitch, a climbing wall and a roof garden from which to watch trains glide out of Kings Cross station towards Cambridge or Hogwarts. Googlers can cycle right into the building and to the cycle store room, which is equipped with showers and lockers. Somewhere in the interstices, there will also be desks to work on.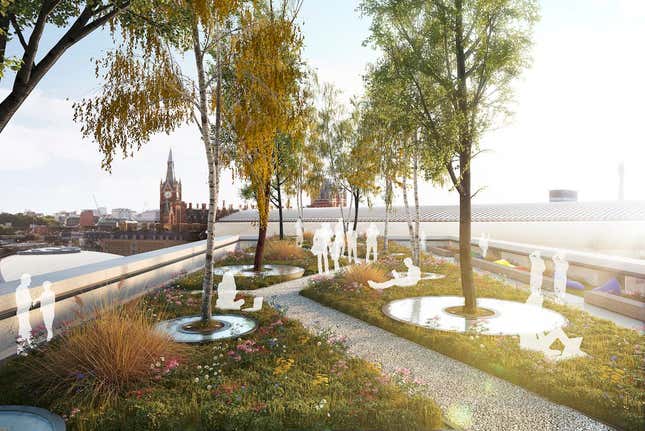 The 1-million-sq-ft (93,000 sq m) office will sit on 2.4 acres (1 hectare) of land between Kings Cross and St Pancras stations.  When the deal was announced in January, it was one of the biggest ever commercial property acquisitions in Britain. Reuters reports Google will spend £650 million ($1.05 billion) to buy and develop the site, with an eventual worth of £1 billion.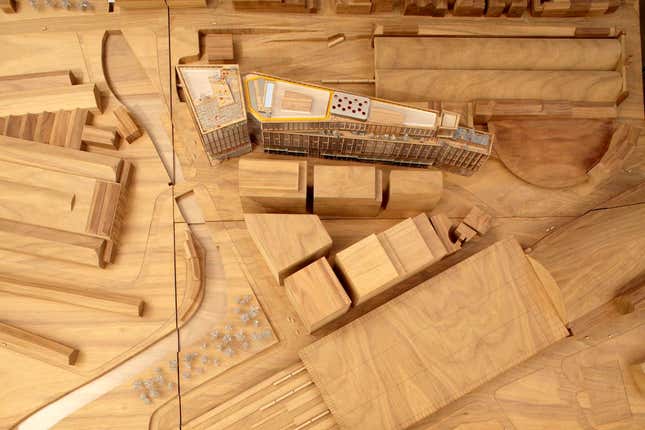 So why is Google splashing the cash on this much space? The cynical answer is because it can: Google needs to do something with all those billions of dollars it has earned outside the US because it can't bring them home without a whopper of a tax bill. The more philosophical answer is that the nature of work is changing—at least for those companies that can afford it.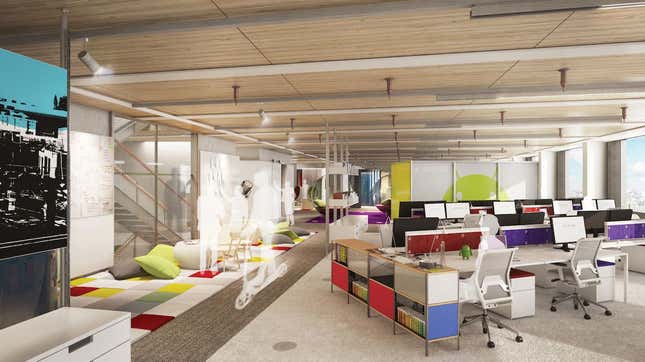 Conventional wisdom has it that technology has made offices leaner. Manual labour has been eliminated, paper files have been replaced by digital ones, and people can work remotely. Yet that is precisely why Google needs as much space as it does—the swimming pool, the football pitch and the free lunches are meant to entice workers into the office, to keep them there, to eliminate reasons for staying away. Tech companies take as much space as old economy firms—they just use it differently.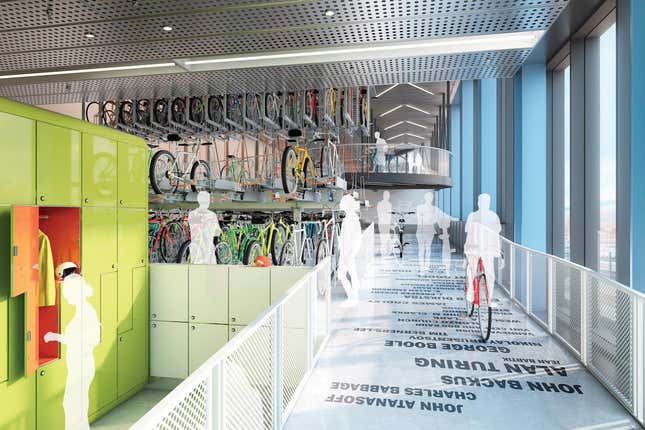 "The idea is that the people who are in the building—not the tenant but the actual staff—need to be attracted to the building. They need to like the community of the building," says Simon Allford of Allford Hall Monaghan Morris, the London architects building Google's HQ.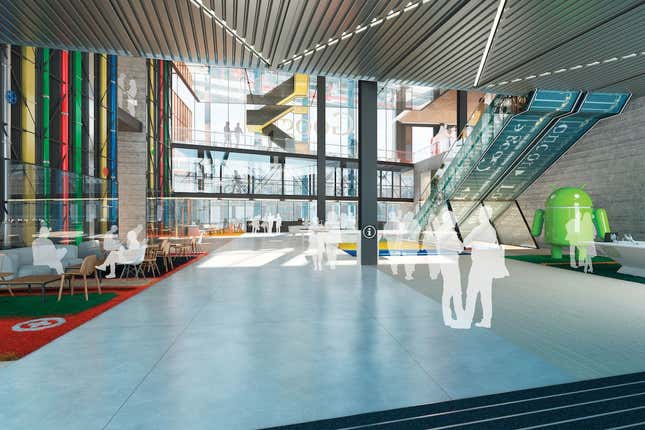 That's also why Google chose to put its building at Kings Cross. Central Saint Martins, an art school, is just over the canal. The Francis Crick Institute, a biomedical research center, is coming there in 2015. The British Library, home to one of the world's largest collections of knowledge, is up the road. And Googlers with a decent pair of binoculars should be able to read tomorrow's news being typed out at the Guardian's offices on the other side of Kings Cross. When complete, the neighbourhood will have one of the highest concentrations of brilliant, creative people in London.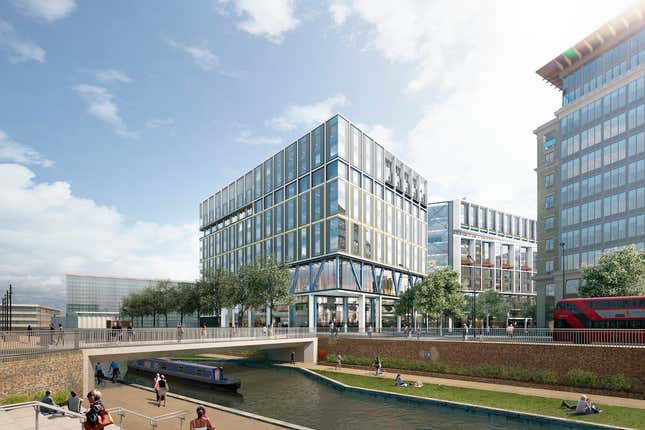 "The point is if there's 3,500 students, they [Googlers] might form a relationship with Central Saint Martins," says Allford. "You come to a city to meet people who aren't like you, who are different and have different ways of seeing the world. The street life is incredibly important for why you live in a city. Taking that idea of life into the building and social space and what Google call positive friction. You want people to get to their desk and do work, you want them to get around, but you don't want them to miss each other."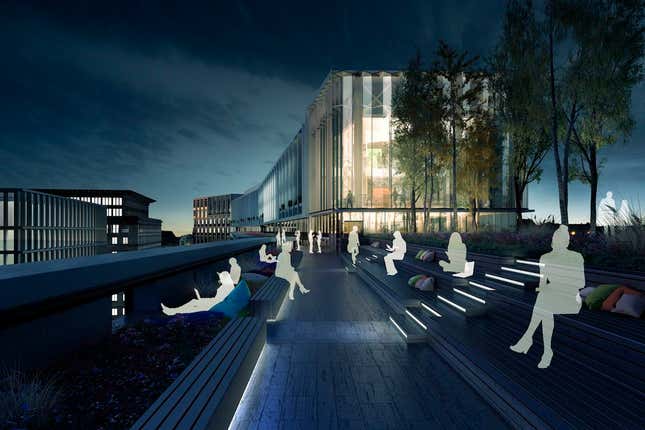 It is also plugged into larger networks. From Kings Cross, Googlers can get to Cambridge, home to Britain's tech hardware sector and chipmakers such as ARM—or Microsoft Research, which is just outside Cambridge station—in 45 minutes. From St Pancras station, on the other side of Google's HQ, they can take the Eurostar to Brussels (capital of the European Union and useful for lobbying eurocrats) or to Paris (Eurodisney!) in just two hours.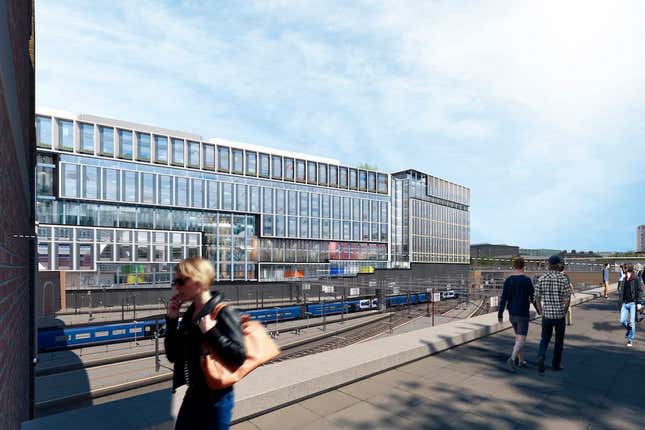 The building will remain inherently flexible, says Allford. "We've talked with Google about theatre, stage set, and props: The building is the theatre. It lasts 100 years. The stage set is the auditorium. It lasts 20 years and is a building within the building. The props are—the little meeting rooms, the furniture, all this, which ideally you could reconfigure overnight." The idea is to have a dynamic, flexible space defined by the people who occupy it, not the other way around.

It can hold 4,500 employees, more than twice the total number of Googlers in London. The building will be ready in 2016. Until then, London-based Googlers will continue to be split between two offices at Victoria and one off Charing Cross road.