The Hong Kong housing market is headed into a "downward spiral" and home prices will fall at least 30% from their all-time peak in February by the end of 2015, Barclays said today, in one of the most bearish pronouncements yet about Hong Kong real estate. If Barclays is correct—and UBS and Bank of America Corp have issued similar warnings—the drop could return home prices to what they were in October of 2010.
The special administrative region's vertiginous real estate market certainly has a long way to fall: Hong Kong is the most expensive city in the world for residential and office space. Low mortgage rates, tight housing supply  and an influx of mainland Chinese cash have caused prices to more than double in some neighborhoods since the 2008 financial crisis.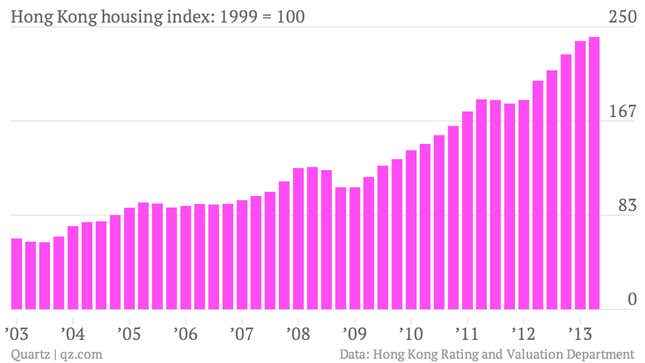 Several new controls introduced this year, including taxes on overseas buyers, have cooled home prices slightly in recent months, but they still remain astronomical. A two-bedroom, 966 square foot apartment in the central Wan Chai neighborhood, for example, lists for US $3.7 million. Hong Kong's residential rental prices have also been softening in some brackets since the beginning of the year, though they remain some of the most expensive in the world. Apartments in the 1,100 to 1,700 sq. foot range rented for $5,300 to $8,400 in August, down about 7% from the beginning of the year, according to the city's latest property report.
Barclays analysts advised their clients to sell property companies in Hong Kong including Swire Properties and New World Development. The notion that Hong Kong's property market is in bubble territory has been built into their  stock prices for some time, though, and they were virtually unchanged in Hong Kong on Monday.