Good morning, UNGA-nthusiasts! 
"The world is suffering from Trust Deficit Disorder," UN secretary-general António Guterres warned at the start of the General Debate. Today, South Korea, the UK, and Venezuela, among others, will issue their own diagnoses, while across the street, protestors of various nationalities have also prepared a few choice remarks.
Whatever your concern, there's a common enemy in the weather. Temperatures will range from the low 60s (15 Celsius) to the sticky 80s (27 Celsius), and a heavy thunderstorm is on its way. 
What to watch for
Donald Trump takes on the Security Council. The US president chairs a special meeting on "counter-proliferation." Expect him to target Iran, which secretary of state Mike Pompeo described as "a regime which brazenly defies the vision of the United Nations," earlier this week.
Politics meets business. UK leader Theresa May delivers the keynote address at the Bloomberg Business Forum, which convenes 50 heads of state in one morning at the Plaza Hotel (and will be livestreamed here). In the afternoon, French president Emmanuel Macron takes over, co-hosting the One Planet Summit on climate change with Guterres, World Bank head Jim Yong Kim, and Michael Bloomberg.
Walking the walk. Also on UNGA's sidelines, the Gates Foundation's Goalkeepers event will focus on keeping heads of state accountable. At noon, Melinda Gates talks activism with change-makers including Malian singer Fatoumata Diawara, Kenyan rapper King Kaka, and Indian spoken word poet Aranya Johar.
Small but mighty. Getting tired of the crowds? Head uptown to Asia Society, where the UAE's foreign affairs minister will discuss security, followed by his Singaporean counterpart on growth and economic change in Southeast Asia. Or just watch online.
📺 Livestream the high-level meeting on the Syria crisis at 10:30am EDT.
📚 Read up on the dramatic rise in global hunger and a massive joint effort to collect the agricultural data needed to fix the problem and achieve the UN's Sustainable Development Goals.
What everyone is talking about
World leaders agree to disagree. Trump urged the General Assembly to abandon multilateral dogma and embrace patriotism. Iran's Hassan Rouhani called the fear of multilateralism "a symptom of weakness of intellect." And Macron insisted on "a third way": even more multilateralism. 
Thanks to all who sent in suggestions for Trump's speech. The majority involved resignation, but Gene wins for prescience with "…maybe I was a little strong out of the gate…" Indeed, one of Trump's first boasts was so predictable that the hall burst into laughter.
Who runs the world? María Fernanda Espinosa Garcés is only the fourth female General Assembly president in 73 years. Opening the day of speeches, the Ecuadorian politician dedicated her presidency to "all the women of the world," and Guterres decried "the male-dominated world" of tech.
Special Purpose: Dodging sanctions. The E3/EU+2 (you know, China, France, Germany, Russia, the UK, and the EU's foreign policy chief) agreed to create a special fund to help companies trade with Iran and skirt US sanctions. Whether it works or not, the US-EU rift on trade finance is another sign of the fracturing global economic system.
Save the blue helmets. To keep the UN's peacekeeping force fit for future missions, Guterres appealed to dozens of heads of state to fund operations in a "predictable, adequate, and sustainable" way. He wasn't asking for small change; while the general UN budget expensed $5.7 billion in 2016, peacekeeping operations cost nearly $9 billion.
Negativity on NAFTA. There's "still a fair amount of distance" between the US and Canada on trade, and "very large issues" remain ahead of a Sept. 28 deadline to seal a deal with Mexico, said US trade representative Robert Lighthizer at the satellite Concordia Summit.
Tweet of the day
Photo of the Day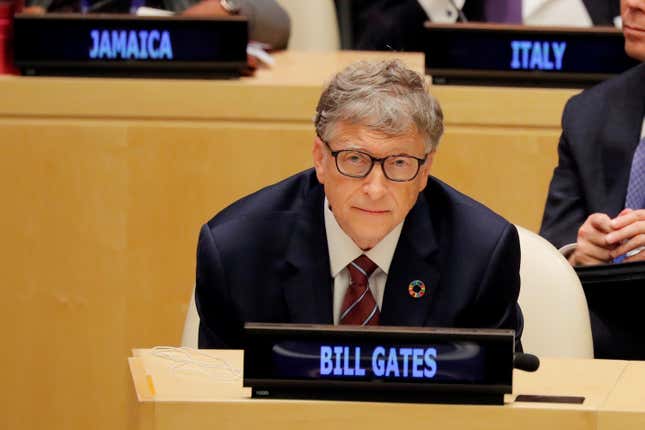 Missing in action
Indian prime minister Narendra Modi made use of his time away from the UN to hurl invective at his opposition, implying that the Congress Party is backed by Pakistan. Vladimir Putin thanked an oligarch for his hard work. Somali president Mohamed Abdullahi Farmaajo attended a soccer tournament in Mogadishu in athleisure.
Chart interlude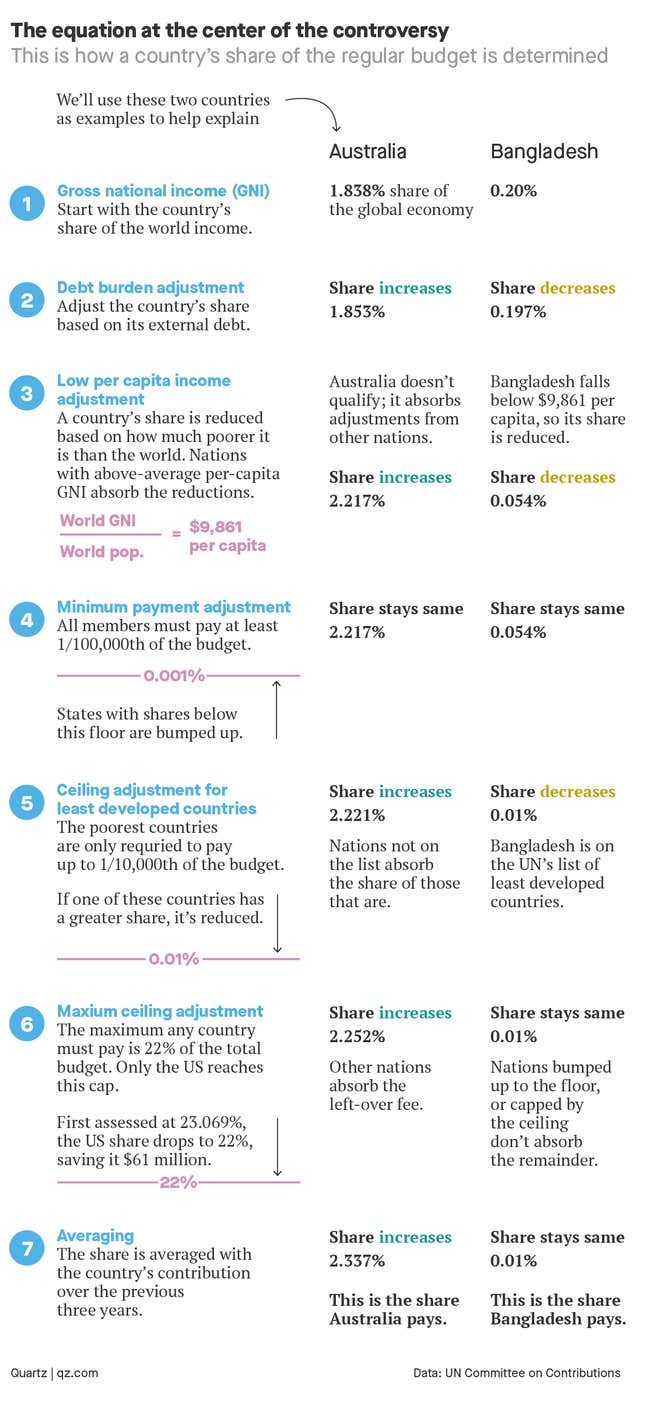 Overheard at UNGA
"I am here to represent the president of the Republic of Ghana. He wanted to be here but he had a conflict…something that he is doing somewhere else, all because… (laughs) do I have to say it? Actually he is having a dinner with the president of this great republic [the US]."—Gyan Baffour, Ghana's Minister for Planning .
"Your wife?"
"She's still a judge. And yours?"
"She's still a politician!"—Two men at the World Economic Forum's Sustainable Development Impact Summit.
"The world is changing, and UN meetings need to catch up. It's a lot of prepared speeches. It's very boring sometimes. You know, there's an art to hosting meetings."—A high-level Turkish bureaucrat in the General Assembly cafe.  
"Water…water…"
"Sorry we're closed."
"Water!!!"
"Ok." —The art of diplomacy at Cafe de la Paix in the Secretariat.
Acronym of the day
Send us your best guess for the official UN acronym W.I.T.C.H.
Yesterday's acronym, G.L.U.C.O.S.E means Global Least-cost User-friendly CLEWs Open-Source Exploratory model. Of course it does. Congratulations to the two people who nailed it—remember, we're on the honor system!
News from around the world
US lawmakers set a date for Brett Kavanaugh's confirmation vote. The Senate Judiciary Committee scheduled the vote for 9:30am EDT on Friday, less than 24 hours after the Supreme Court nominee and Christine Blasey Ford, who has accused him of sexual assault, will testify in front of the panel. Senator Dianne Feinstein blasted the move, saying, "Republicans don't even need to hear her before they move ahead with a vote."
Pope Francis defended the deal between the Vatican and China. In his first public comments on an agreement signed in Beijing over the weekend, he clarified that the pope—not Beijing—will appoint bishops, but candidates will be proposed by Chinese authorities and members of local Catholic communities. He acknowledged that both sides made compromises and that members of the underground Chinese church "will suffer" as a result.
The Indian Supreme Court upheld the country's biometric ID project. The five-judge bench ruled that India's controversial Aadhaar project can still be required for enrollment in government welfare programs, but imposed some restrictions on how the personal data of millions of citizens can be used. Banks and other private companies can no longer use Aadhaar for their verification requirements.
Matters of debate
"Innocent until proven guilty" doesn't apply to job interviews. Brett Kavanaugh's liberty isn't at stake—he's just a guy who's up for a job.
Facebook's trust rankings are untrustworthy. Reputation testimonials are often just as fake as the fake news (paywall) they're meant to validate.
Teaching Arabic in schools could combat radicalization. A French report recommends more Arabic language classes so that students can learn in a secular setting.
Surprising discoveries
Vaccination rates in rich Los Angeles schools are as low as South Sudan's. LA parents are filing for "personal belief exemptions," while South Sudanese ones are dealing with a civil war.
Bees love the buzz of urban life. Their country cousins are living in a bee wasteland created by insecticides.
Scientists are trying to solve the mystery of blinking. Researchers believe we have the medial prefrontal cortex to thank for ensuring the world doesn't go dark.
Our best wishes for a productive and peaceful day. Please send tips, gossip, and spare umbrellas to chu@qz.com. You can read more of our UNGA 2018 coverage here. And if you have colleagues or friends who would enjoy these emails, be a leader and forward this along.