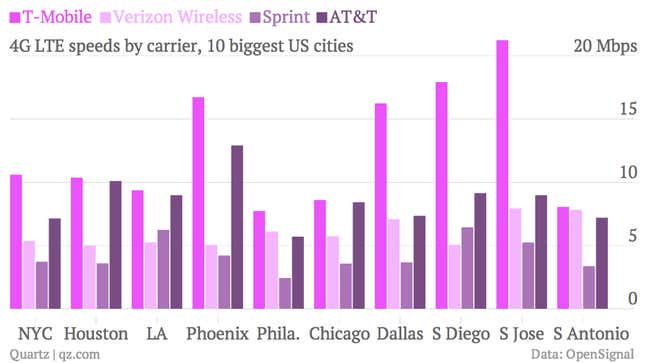 It will surprise precisely nobody that the fastest mobile broadband among America's 10 biggest cities can be found in San Jose, the self-proclaimed capital of Silicon Valley. What is less obvious however is that the high average speed recorded in San Jose is thanks to T-Mobile, the "uncarrier" whose fourth-generation long-term-evolution (4G LTE) mobile broadband only went live earlier this year.
Indeed, looking at networks is more instructive than looking at cities: Philadelphia would be chugging along nicely at average LTE download speeds of 6.51 Mbps if it weren't for Sprint, whose dismal 2.43 Mbps download speed drags the average down to 5.49 Mbps, the worst among the 10 biggest cities in the US. T-Mobile's speeds in San Jose are nine times faster than Sprint in Philadelphia. Sprint's speeds were the worst in nine out of the 10 cities surveyed. T-Mobile's were the best in six.
The numbers come from the folks at OpenSignal, makers of a network coverage analysis app of the same name. They periodically investigate the reams of data collected by the app; previous research includes this wonderful illustration of just how fragmented the Android ecosystem is. For the LTE study, OpenSignal's researchers looked at data over a period of six months to ensure isolated incidents didn't mess with the sample. The relative newness of T-Mobile's 4G network, and therefore its fewer subscribers, may be one factor that contributes to its faster speeds. But Samuel Johnston of OpenSignal insists his sample represents all four networks well. Moreover, Sprint and T-Mobile have a comparable number of users. That is what makes the wide gulf in service that much more remarkable.
We have contacted Sprint for comment and will update when we receive a response.