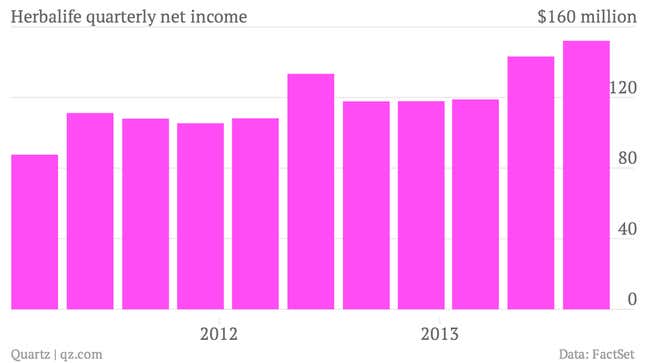 The numbers: Solid, but not spectacular. Herbalife reported a 19% increase in third quarter sales of $1.2 billion. Net income came in at $151.2 million, or $1.32 per share, easily beating Wall Street's expectations of $1.15. The company is forecasting sales to rise by roughly another 14.5% next quarter. Shares have whipsawed in and out of positive territory in after hours trading as investors digest the results.
The takeaway: Herbalife's earnings news doesn't do much to boost its position in the longstanding controversy over the nutrition products distributor's legitimacy. In case you're late to the game, high-profile investors like Bill Ackman and Latin American minority advocates have argued that the company is an illegal pyramid scheme. Ackman, who reduced his short position against the company last month, insists that his bet against Herbalife will prove rewarding. But the company also has many influential supporters, including Carl Icahn, who continues to believe the stock is a worthwhile investment.
While scrutiny of the shakes and supplements provider has centered mostly on its US operations, the company's Latin American operations continue to perform strongly. While sales in the US rose 9.5% to $229 million, sales in Mexico, where the company has almost four times as many outlets (or clubs, as they're known) as it does in the US, and more than half of its total clubs worldwide, were up 11% to $141 million. Sales in South and Central America were up to 44% to $241 million.
What's interesting: Ahead of the earnings announcement, in what would appear to be another boost for Herbalife's credentials, the company said it had appointed former US surgeon general Dr. Richard Carmona to its board of directors. (Carmona also sits on the board of e-cigarette company NJOY.)