Beijing police are searching for two men from China's Xinjiang region in connection with the Tiananmen Square car crash that left five dead and injured 38, state media reported, a sign officials believe the crash was a deliberate act rather than an accident.
The vast western autonomous area of Xinjiang is home to China's 10 million Uighurs, a minority that speaks a separate Turkic language, as well as numerous other mostly-Muslim minority groups, and has been the target of billions of dollars in development projects created in Beijing that cover everything from energy projects to tourism development. In part thanks to the investment, the region's GDP growth has outperformed the national average, although it remains a tiny contributor to China's overall economy, as Deutsche Bank analysts recently charted.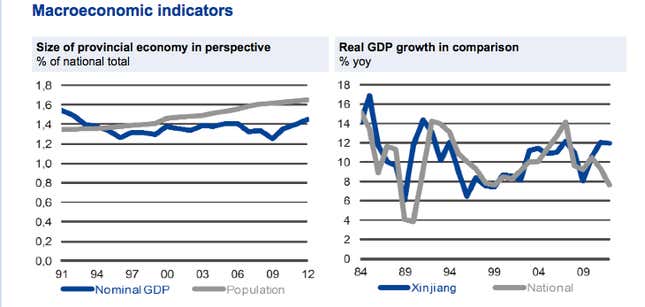 While the economic growth has created job opportunities, they're not necessarily benefiting Uighurs and other minorities. About half of the jobs posted at the time on a government website required applicants to be ethnic Han Chinese or native Mandarin speakers, and Uighurs are banned from jobs like oil and gas tanker truck drivers because of Beijing's fears they could be religious extremists.
Heavy-handed attempts to influence the way Uighurs practice Islam, and in some cases prevent them from following religious edicts altogether, has sparked outrage from activists and local religious leaders. Students, teachers and government workers are banned from fasting on religious holidays, beards and headscarves are restricted, and no one under 18 is allowed in a mosque, among other local rules, a recent report by an American Uighur rights group said. In September, one local government covered a mosque prayer niche that points the way to Mecca with a Chinese flag, which worshipers must bow to while praying, activists reported (link in Chinese).
The summer has been marked by several fatal clashes between police and citizens in China's western region that left dozens dead, mostly Muslims. If the Beijing police are correct about their suspects, the violence has now spread to China's capital.