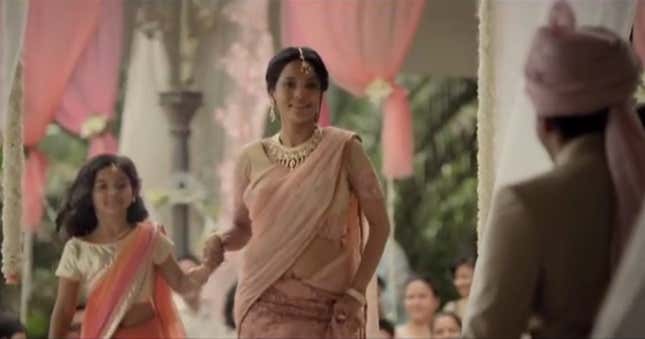 A beaming bride in a dreamy, pastel-tinged advertisement for ornate gold jewelery is certainly nothing new in India. Make her an Indian bride who was previously married, and you've also made history—not to mention a social-media sensation in a country where tradition usually dictates that widowed and divorced women are outcasts.
Tanishq, the jewelry company owned by the massive Tata Group, is making waves in India with a minute-and-a-half long ad that shows a single mother preparing for her wedding accompanied by her young daughter, complete with handsome groom and her proud relatives. Adding to the "controversy," the mother's complexion is a few shades darker than the tone favored by Bollywood and Indian television, yet no one tries to plaster her with skin-lightening products before her ceremony. The commercial culminates in the daughter asking if she can call her new step-father "Daddy."
Second marriages are not new in India, of course, and there are even websites aimed at the previously married, like SecondShaadi.com. But in the staid and traditional land of Indian advertising, celebrating such an event, particularly one featuring a confident, unapologetic bride, is brand new. The advertisement "steps into taboo land, the never-explored and deliberately ignored area of second marriages," one advertising manager told the Economic Times. It has won enthusiastic praise, spawned Twitter accolades and spurred ongoing discussions on feminism in India.
As with many aspects of life in the world's largest democracy, women often get the short end of the stick when a marriage ends, often finding themselves financially destitute and socially outcast. Existing laws require them to prove their husband's income to get support, and a still-conservative viewpoint on divorce is common in many social circles. Those attitudes are changing, though.
"This is the thinking that most progressive people have," Arun Iyer, the creative director of Lowe Lintas, the agency that made the ad, explained to Mint. "The ad makes a bold progressive statement," he said. Casting it properly was equally important, he added, in an aside that says much about the prevalence of less-than-progressive attitudes in India: "It had to look like a marriage of equals," he said, "not something that was done out of pity."