There's no such thing as an "American" car anymore. Thanks to globalization, almost every car sold and built in the US is an amalgam of parts from a supply chain stretching from Bangkok, Thailand, to Smyrna, Tennessee.
As a result, US president Donald Trump's ongoing trade war with China and Europe, and his administration's contentious renegotiation of the NAFTA free trade agreement with partners to the north and south, is putting enormous pressure on American car companies. In August, China slapped a second round of tariffs on automobiles produced in the United States. At least a quarter million automobiles expected to be imported into China's car market, the world's largest, will now be far more expensive.
"This, unfortunately, appears to be part of a tit-for-tat in an escalating trade war, and it could reach crazy levels," a Wall Street automotive analyst told CNBC.
In the recently announced US-Mexico-Canada Agreement, Canada and Mexico secured some protections for their auto industries in side letters to the pact. The European Union, however, has not been so lucky. If the two parties can't reach a deal on auto-part exports to the US, "we will respectfully put tariffs on the cars," Trump said.
In the long run, this is not a game the US can win. The global car market dwarfs that of the US (which China eclipsed long ago), and most of the growth for American car companies is coming from outside American borders. That gives the US less leverage than ever to have its way in the world.
Since 2005, the global share of cars and trucks made in the US has fallen by half. In 2015, the US made only 7% of cars and 22% of trucks sold worldwide. Increasingly affluent global buyers have many more choices now—and that means American companies will need to either compete more forcefully on a global stage or withdraw into a smaller, stagnant domestic market.
"There is a real danger that the tactics of higher trade barriers will lead to US firms being less able to participate in the global supply chains for automobile production," writes economist Timothy Taylor, managing editor of the Journal of Economic Perspectives at Macalester College in Minnesota. "Given that the vast majority of future growth in motor vehicle production will be outside the US economy, this is a concerning possibility."
He points out that Western car markets are already saturated, with more than 800 cars per 1,000 people in the US and around 600 cars per 1,000 people in Europe, both milestones reached in the last decade or so. By contrast, most of the rest of the world has fewer than 200 cars per 1,000 people. In 2015, Asia had fewer than 100 cars per 1,000 people, while Africa had fewer than 50.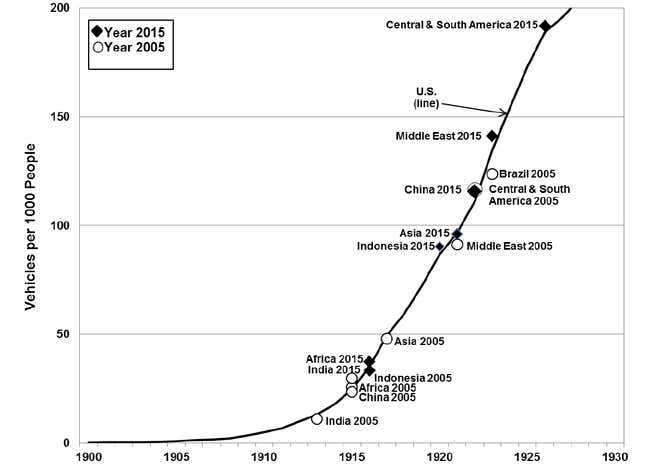 With the rest of the world catching up, the opportunity lies on the world stage. The question is whether American car companies will be able to go after it.