HP proclaimed at a small event in New York  that it had "reinvented" the personal computer. It had, in fact, just encased a humble laptop in leather.
The company today (Oct. 1) unveiled the HP Spectre Folio, a $1,299 touchscreen laptop that folds down into a tablet. The device isn't just wrapped in a leather exterior—components within the computer slot are bolted into the material, so there's no way to take the leather off without compromising the device.
The leather is functional is another way: It allows the unit to fold easily from a traditional laptop form to a mounted-upright screen, and down into a tablet, somewhat similar to how the the leather keyboard case works on an iPad Pro. The laptop, essentially hinged on supple leather rather than any mechanized parts, has the look of a traditional portfolio case—hence the name.
"HP embraced the art of 'manucrafturing,'" the company said in a press release. That part hurt.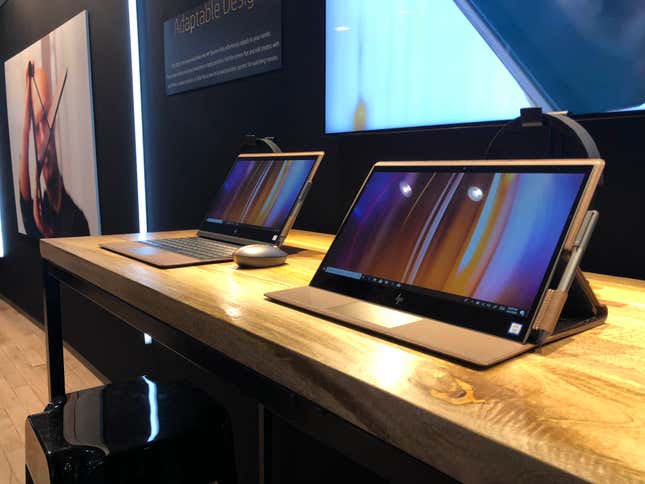 If you're not a fan of animal products being used in your computer products, you're out of luck. The computer comes in two colorways—a brown and silver combo, and maroon and gold—both of which the company says are made of genuine leather.
An HP spokesperson sent Quartz the following statement:
As part of our efforts to provide products for consumers' purposes and profiles, we now offer the HP Spectre Folio that meets a demand for luxury craftsmanship in personal computing. Leather has been used as a material in fine crafted products for generations. In the case of the Spectre Folio, it plays an important role in the functionality of the device.
The company wasn't immediately available to explain why leather—rather than any other fabric—was used.
The computer features an Intel Core i5 processor, and a stated battery life of up to 18 hours. For an extra $200, you can bump up to a Core i7 processor and LTE wireless connectivity (free for six months in the US via Sprint). Both models, available for preorder now, are expected to ship in December.
Update (5:20pm): A spokesperson for People for the Ethical Treatment of Animals (PETA) sent Quartz the following statement:
The HP Spectre Folio is behind the times, as retailers and designers now recognize and try to meet the demand for fabrics that never bled and don't smell like hide. Vegan leather is animal-friendly, innovative, high-quality, eco-friendly and widely available, so shoppers need never fear contributing to the horrors of slaughter when they buy a laptop.