With a vote of 50-48-1, the US Senate  confirmed Brett Kavanaugh to the Supreme Court today, despite allegations of sexual assault, and calls from universities, lawyers, and church groups for him to withdraw.
Women have been protesting his nomination for weeks in Washington, flooding the US Capitol and Senate buildings with signs and sit-ins, being arrested in droves, and drawing howls from Republican leadership. Senate Majority leader Mitch McConnell referred to the protests Oct. 5 as "mob intimidation" trying to unfairly shape the Senate by pressuring senators.
Today, the Capitol is surrounded by protestors as senators gather to vote today. But tomorrow, that mob is headed to the polls. "We are going to be outraged," when Kavanaugh is confirmed, Linda Sarsour, the Women's March c0-founder, told Quartz on October 4 on the sidelines of a protest on the marble steps of the Supreme Court. "And then we are going to win even bigger in 2018."
Republican senators "made a detrimental decision," Sarsour said. "They're going to lose big" in November, she predicts.
Republican lawmakers backed Kavanaugh's nomination in part because internal polls suggested the party could lose Trump voters in the midterms if he wasn't confirmed. But by pushing through his nomination, they may have given even more energy to the women at the heart of a movement against the Trump presidency.
The Blue Wave is female
Women are more likely than men to be registered to vote in America—in the 2012 election, 67% of eligible women were registered to vote and 58.5% voted. In contrast, 63.1% of US men were registered and 54.4% of men voted.
Even before Kavanaugh's confirmation was sealed by Maine senator Susan Collins' lengthy announcement yesterday, women were organizing across the country to register voters, and to get on the ballots themselves.
A record number of women, 235, are on the ballot for 435 House seats in the 2018 midterms; 185 of them are Democrats. Groups like Moms Demand Action and The League of Women Voters have been visiting high schools, universities, apartment complexes, and shopping malls to register voters. Within hours of Collins's speech, Planned Parenthood had announced a "day of action" to get voters signed and energized up in 16 "key districts" across the country, where vulnerable Republicans stand to lose House seats.
Many women's magazines are also onboard. "It's time to activate our anger (again), ladies—and I'm all the way in," wrote one Glamour columnist about the voter drives.
On National Voter Registration day, September 25, 800,000 new voters signed up, half a million more than organizers expected (there is no breakdown on the gender split).
Sexual assault as rallying cry
Outside the Supreme Court on Oct. 4, women of all ages stepped up to a microphone in front of a crowd of hundreds of protesters, and introduced themselves, then identified themselves as sexual assault survivors.
"WE BELIEVE YOU" the crowd chanted back at them, every single time. It was performative and yet powerful. Many had tears streaming down their faces as they yelled their response. Several women in the crowd carried homemade signs that described their assaults. "I was 17. No one believed me," read one young blonde woman's sign.
"The reckoning is here," Ana Maria Archila, the co-executive director for the Center for Popular Democracy (who confronted Senator Jeff Flake in an elevator ahead of his Judiciary Committee change of heart on Sept. 28) told the crowd. "No matter how this vote goes, that ideology of dominance and patriarchy is a dying ideology," she said.
By backing Kavanaugh, Republicans are "eroding the process of confirmation and democracy itself," Kaji Dousa, the senior pastor of Manhattan's Park Avenue Christian Church, told Quartz. "We can take that back," she said. Kavanaugh "can be impeached," she said. "We will try in the name of justice."
After the speeches were over, the crowd headed over to the Hart Building, where many Senators have their offices, streaming into the from multiple entrances and amassing in the atrium. One of the offices on the fifth floor had made a massive sign on sheets of copy paper that said "We Believe Survivors!"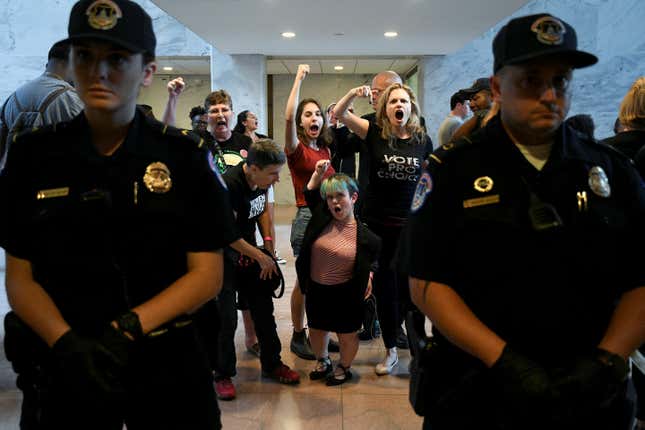 "We won't go back! We won't go back!" hundreds of women yelled in the atrium. Their words echoed off the marbled walls and bounced from the ceiling.
While the office building is public property, protest is banned inside it. Hundreds of arrests were made swiftly. The women arrested formed neat lines behind police before they were led out of the room, right fists raised, to cheers from those watching from the balconies.