On a sunny late September day in Boston, I walked into the high-end mall Copley Place and made my way to its center to a Louis Vuitton pop-up shop that's covered in red neon logos. The only things brighter than the LV logos are the dozen young Chinese girls in front of me. They look to be in their early 20s, kicking around in Dior and Gucci shoes, gathered in groups of two or three, either swapping their phones or posing for pictures. But make no mistake, this is not a scene from the movie Clueless. They are Chinese international students, the micro-influencers who are increasingly on luxury brands' radar.
They are the fu'er dai, the Chinese children of nouveau riche parents, and these international students are the big spenders among a demographic already known for splurging on luxury goods.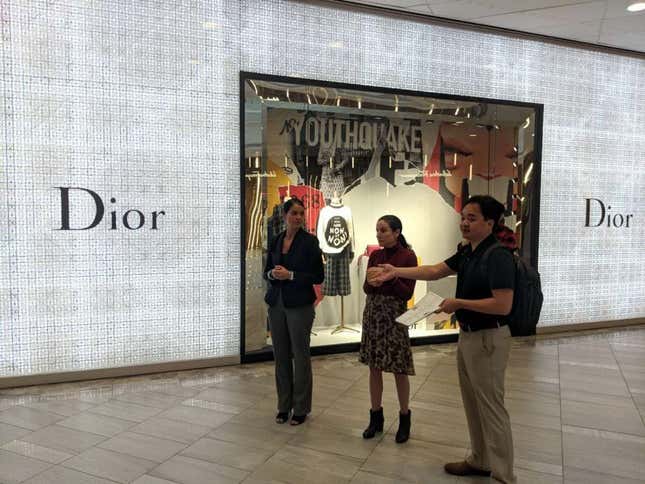 "This is the spot for shopping luxury," said Qian Qian, a graduate student at Northeastern University. I noticed her Dior earrings as she joked that the best source of entertainment in Boston was to spend a day at Copley and be surrounded by her favorite labels, such as Dior, Burberry, and Tiffany's.
Qian was one of the 16 Chinese students in attendance "recruited" by the event organizer Gold Linq, a Los Angeles-based consultancy that manages outreach to the Chinese market for Simon Shopping Destinations across its different properties, including Copley. This was Copley's first time organizing a special shopping program targeting Chinese students, and it was intended to celebrate China's National Day holiday, marking the founding of the People's Republic of China, that began on Oct. 1.
Targeting the influencers
Eight weeks prior, Gold Linq worked directly with several Chinese student groups and university associations in New York to look for luxury shoppers who are active on social media to attend the day's event. These Chinese students spread the word on WeChat by sharing the event flyer in chat groups. According to Gold Linq, 30% of Copley's attendees have more than 800 WeChat friends.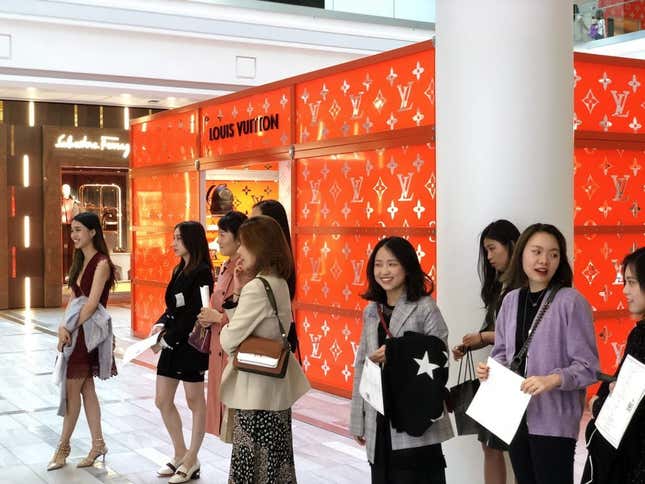 The lure was especially attractive for this day. In addition to gifts cards and Uber credits, social-media-worthy pictures were promised. In fact, incentives were provided if students shared images. "There's no pressure to buy anything, so enjoy your trip," Jimmy Hsieh told the group. "But we will have a lottery of wonderful prizes if you share your experience on social media."
The only older man in the group, Hsieh is a Gold Linq employee and also our guide for the day. He handed out an itinerary that detailed a packed day. We would be visiting six different stores in five hours, from high-end brand Dior to jeweler APM Monaco, with each brand catering a special program for the group.
As we marched toward Dior, our first destination of the day, we were immediately greeted with champagne and small plates of colorful macarons. "Welcome," a Chinese sales associate spoke softly in Mandarin, "we are excited to introduce you to some of our new collections here, and speak about their inspirations."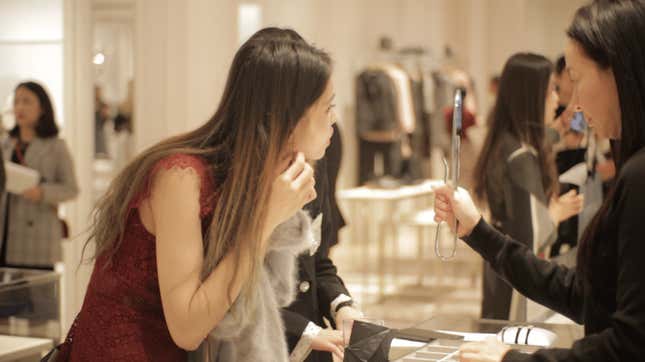 "This collection is inspired by the May 1968 protests in France. The patchwork on the clothes imitates wall posters; you can spot them on the wall of the runway show." The sales associate led us to the new collection pieces and seemed to transport us to the front row of the runway show.
As her voice faded into the background, I noticed how big the store is—it covers a wide range of products, including ready-to-wear clothes, jewelry, shoes, and accessories. I spoke with a group of girls crowding near the jewelry counter—one of them, a New York University student accompanying her friend in Boston to the event, was trying on a jewelry set priced at $600. "I mostly buy luxury goods for my mom. This is to indulge myself," she claimed as she handed over her Chinese credit card to the sales associate.
Shopping for one's family is a common behavior shared among international Chinese students. Research by strategic consultancy China Luxury Advisors shows that 31% of Chinese students in New York and Boston escort friends and family on shopping trips at least once every three months. Thirty-four percent purchased luxury goods to take back to China at a similar frequency.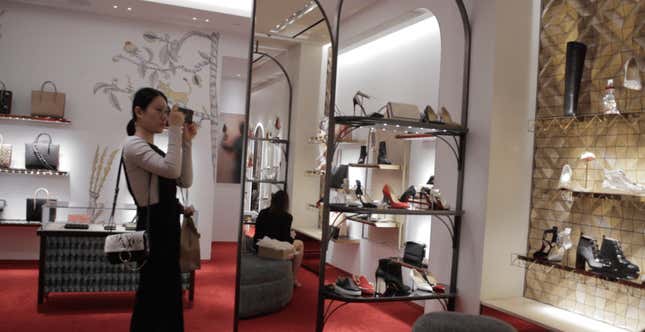 "These international students are all paying full tuition," explained Gold Linq's Hsieh. "Many have their fingers on the pulse of the latest fashion trends, so they are influencers to their friends and family back in China."
Opening their wallets
It's not that easy to get savvy fu'er dai shoppers to open their wallets. Qian pointed out the dark spot on her Dior necklace and complained: "I was debating whether I should wear this today. Look, it's already oxidized after a few months."
"With the price of Dior's three-piece set, I would much rather go get a piece of Bvlgari. It's much better quality," said Nan, another girl from the group. They had never met before, but it took very little time for the two to bond, as they candidly shared insights over past luxury shopping excursions.
As we stepped into the second store, Burberry, an English-speaking sales associate approached us: "Do you want to see our new collections?" He held out a plaid coat with rainbow stripes priced at $1,990.
Qian reached out to feel the fabric. "Since when did Burberry become so hip?" she joked. "Wu Yifan totally rocked my impression about Burberry," referring to Chinese heartthrob singer Wu Yifan, or Kris Wu.
"Oh, Wu Yifan, he is the bomb," the sales associate chimed in. Wu had worked as a Burberry brand ambassador, and walked the runway for the company in 2016, instantly becoming an internet sensation.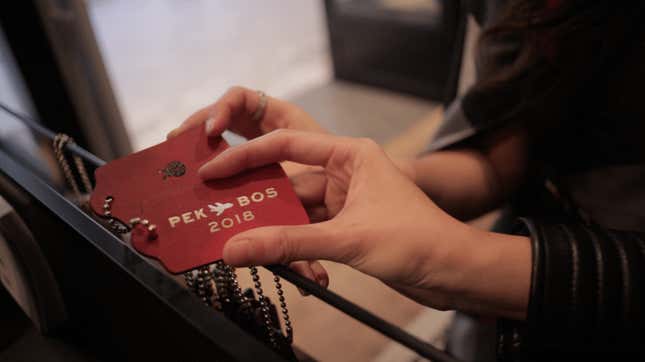 Even though the sales associate was not Chinese, he knew a lot about Chinese clients. "Chinese luxury buyers are younger and very attentive to the change of designers. They are into new and funky lines rather than classical collections, but their love of trench coats never changes," he said.
"In fact, if you are interested in the new collection from Riccardo Tisci, the new items will drop in stores in October," he gestured to a piece of paper for us to write on. "Just leave your phone number and email here, and we will get in touch with you."
Nan debated whether to put down her information, but Qian directed her out of earshot and whispered, "I have the WeChat contact of a sales associate in New York. They have more collections and fresher stuff."
She added: "It's still worth looking around here though, because sometimes Copley might have different collections that are hard to get elsewhere. The key is to get the sales associate's contact to be in the know 24/7."
Gold Linq said they are aware that the attendees were very familiar with Copley and already were WeChat friends with some of the retail staff at their favorite brand stores. "This event was an extra special thank you and more relationship-building time with these important customers," said Renata Bjorkman, cofounder of Gold Linq.
Stuff we all get
Near the end of the day, everyone in the group had their hands full with gifts each brand had given out: a necklace set from APM Monaco, mooncakes from Tiffany, and cookies from Christian Louboutin.
At the lottery session at end of the event, a $250 bottle of perfume from Byredo was the most exciting prize. "I was just thinking about buying it today; this is perfect," said the winner Qian. She snapped a picture of the perfume and shared it on social media.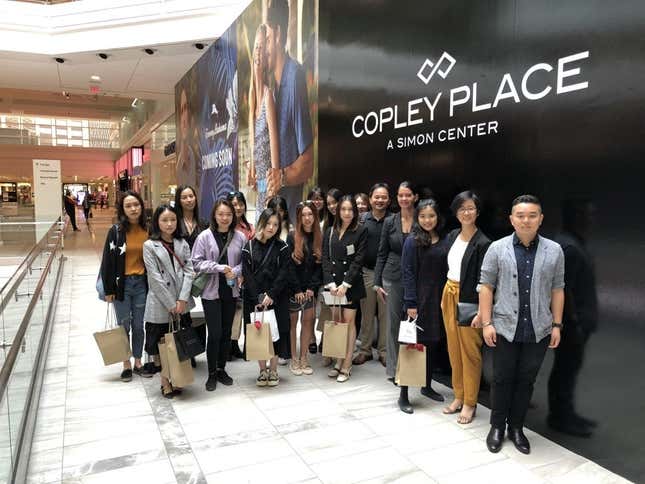 Even though Copley didn't disclose sales figures from the event, it seemed satisfied with the turnout. In an age where social media is the new currency, Copley recognizes the soft power of these mini-influencers, who are generating word-of-mouth exposure that can't be bought elsewhere.
This story originally appeared on Jing Daily.