Apple has just revealed in a filing with the SEC that the company will spend $10.5 billion on stuff—also known as "capital expenditures"—in 2014. For Apple, that stuff includes "manufacturing process equipment, corporate facilities and infrastructure," but does not include the company's myriad retail stores, which are popping up all over.
As mobile analyst Horace Dediu observes, almost all of Apple's stuff-buying is driven by the need to manufacture iPads and iPhones, which means that Apple anticipates that 2014 will be yet another record year for sales.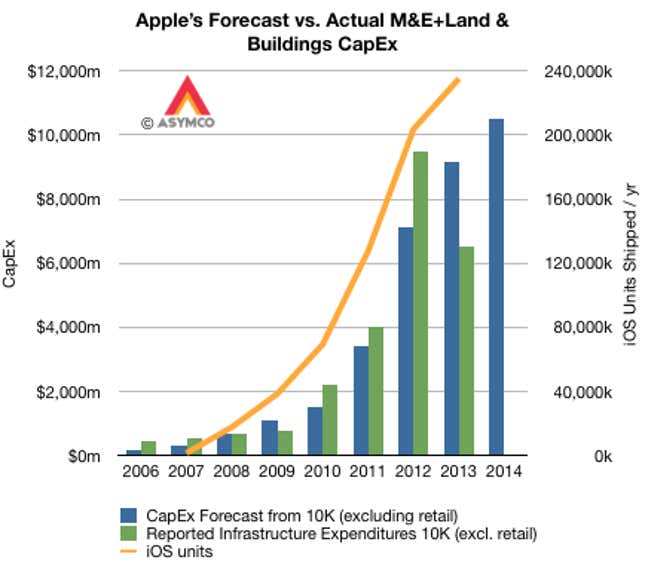 It also means, in a historic reversal that mirrors the decline of the PC and the rise of mobile, that in 2014 Apple will almost certainly spend more on manufacturing than Intel. This is unheard-of. Intel's entire competitive advantage is built on its ability to out-spend rivals on both R&D and gigantic chip-making facilities, called fabs, that are the most expensive and complicated factories on the planet. (We contacted Intel for comment, and will update this post when we hear back.)
Intel has not yet announced what it will spend on capital expenditures (stuff) in 2014, but the trend is clear: After projecting that it would spend $13 billion on stuff in 2013, weakness in sales meant Intel had to scale back its ambitions to as little as $10.5 billion of capital expenditures for 2013. Given ongoing weakness in the PC market, it's hard to imagine the company will spend more in 2014—hence, 2014 will almost certainly be the year that Apple, once an ant on Intel's mighty boot, will outspend the silicon giant on manufacturing technology.