A factory collapse in Bangladesh that killed over 1,000 earlier this year highlighted the dismal conditions for laborers in the country's fast-growing garment industry. Violent protests and strikes have recently shut down much of the capital Dhaka, and a war crimes tribunal recently convicted some of the nation's founding fathers of crimes against humanity.
Still, it's a better place for citizens to live and prosper than India. At least that's the conclusion of the recently released Legatum Prosperity Index, an annual ranking created by a British public policy institute that analyzes countries on both macroeconomic indicators, the "joy of everyday life," and "the prospect of being able to build an even better life in the future."
On this year's list, Bangladesh is ranked 103rd and rising, while India is ranked 106th and falling—the first time India has been surpassed by its eastern neighbor. Bangladeshis "not only live 3.4 years longer than their Indian counterparts, but fewer are undernourished, a lower number die in infancy, and more have access to sanitation," the institute notes. Bangladeshi workers also have more 1.8 more years of secondary education, and "more felt that children were learning in their society."
The institute looks at eight measures in all to compile its rankings. India still outranks Bangladesh in overall health, safety and security, and personal freedom. But in every other factor, Bangladesh is even with or leads India.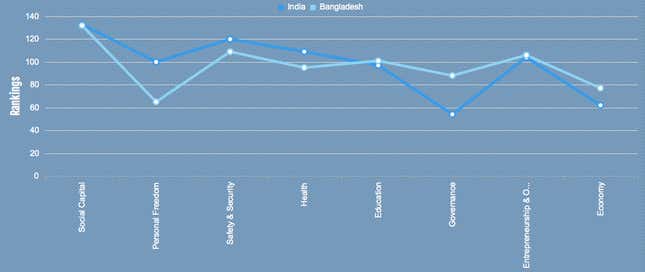 The ranking is sure to be criticized by politicians and policy makers in India. Bangladesh's overall superiority seems surprising, the institute concedes, given that Bangladesh's gross national income per capital, on a purchasing power parity basis, is half that of India's and India's economy has grown faster for almost two decades. Despite these advantages, India is saddled with higher unemployment and rife with examples of poor governance and middle class discontent.
There is, at least, one bright spot for India. Long-time rival Pakistan still remains far below India on the list, ranking 132nd.