I have had a rocky relationship with the Apple Watch.
When Apple's first wearable was released in 2014, I was skeptical but willing to give it a whirl. I bought one and enjoyed it for a few months, but then it started to affect my mental health in ways I never expected. So I stopped wearing it and didn't think I would strap one on again for a while. But something about the third generation enticed me into trying again about six months ago, and I've generally enjoyed the experience since then.
Apple announced the fourth-generation model last month and I could immediately see how the new version could be even better—the new displays were massive, it seemed sharper. But I could also see how all the new additions—heart-health measuring, new watch faces—could just be gimmicky bluster that wouldn't be enough to make it worth upgrading for.
I spent the past few weeks with the latest model. Here's what I learned.
What's good
Big, beautiful display. The new watch models are only about 2mm bigger than the last versions, but the display size has been increased massively, roughly 30% larger than the screens on the Series 3. It's really easy to read the screen, even when running. Messages that felt constricted on the older watches now have room to breathe, and you can even do silly things like read Apple News or your emails quite easily on the large new screen—although your arm would likely get tired quite quickly.
Improved responses. Apple updated the haptic feedback in the Series 4, meaning it pulses out minuscule vibrations as you turn the crown, making it feel as if you're turning a mechanical dial, which makes it easier to scroll through messages or notifications accurately. The taps and vibrations the haptic engine provides notifications with are also subtle and distinct, but not so gentle that you don't notice them.
New features. Although the general design of the watch hasn't changed massively, Apple has added some new technology on the inside. The new watch can take a rudimentary electrocardiogram (or EKG), which can help alert doctors to any possible issues with the electrical current in your heart. It also can track and alert the wearer to abnormally high and low heart rates, and it can, theoretically, detect if you've fallen over. If you want, you can set the watch to automatically alert emergency services, or a contact, when it detects a fall. As a person who trips a lot (multiple people tweeted at me when Apple announced this feature), I've yet to accidentally trigger the detecter, but I've turned it on because… you never know.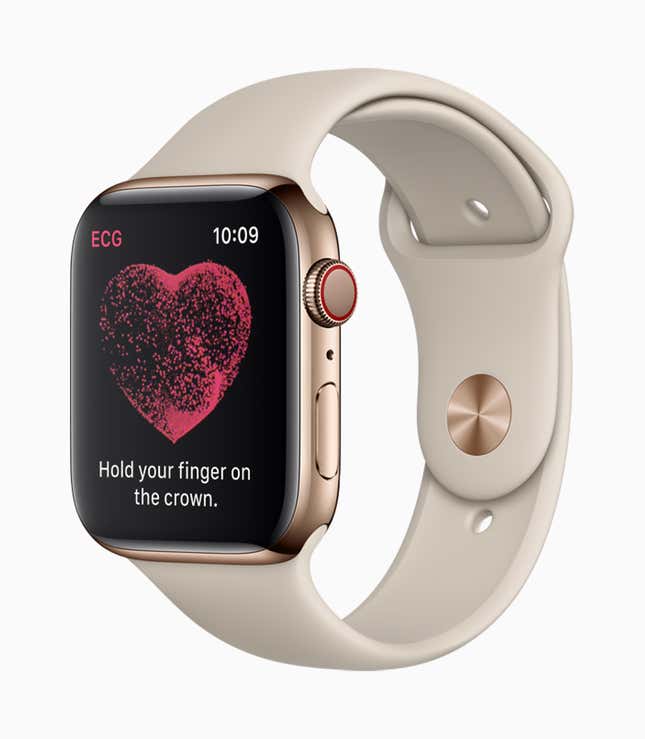 The new watches can also detect when you're working out—if you forget to tell it yourself—and ask you if you want to start tracking an exercise. This is great if you're at the gym and have forgotten to select that you're on the elliptical, but quite annoying if you're an unfit guy just walking down the street and the watch pings you to ask if you're working out.
It's snappier. The new watch features a fourth-generation custom processor that makes the watch feel far quicker than its predecessors. On the earliest Apple Watches, opening apps required the patience of a monk—it could take what felt like eternities passing to even find out the weather. The Series 3 came with a considerable speed upgrade, and the fourth version is faster still, even with the bigger display. Apps open right up, and your arm won't grow tired just trying to check your calendar or the evening's temperature.
Long lasting. Apple says the battery life on the watch should be around 18 hours, and in my tests, it easily lasted through a day, and on rare occasions where I forgot to take it off and wore it through the night, it still had enough charge to make it through most of the next day, too.
Louder speakers. A relatively minor upgrade, but Apple says the speakers on the watch are 50% louder than on previous generations, meaning it's a fair bit easier to hear Siri or incoming calls in noisy places.
What's not so good
Information overload. It seems like the first thing Apple thought to do with all the new real estate on the Series 4 display was fill every inch of it. The new watch debuted with a few new watch faces, most notably the "Infograph" and "Infograph Modular," which both jam too many pieces of information onto one tiny screen. On the Infograph face, there are eight other customizable slots for information, beyond the time. It is highly unlikely that any person needs to constantly know the status of nine things at once, but the new watch gives you this option.
I've been using the Infograph Modular face most of the time, which has six slots, but I feel like I need only five of them. It's nice that I can check out the Earth's relative position in the solar system, or know how far along the sun's shadow on the moon is during the day, but do I need to always know these things?
Battery still isn't long enough. Even though I could get through even the most taxing days with ease—I ran and tracked my first race in half a decade with the Series 4, and then walked another 10 miles around the city one day with no real strain on the battery—you still have to remember to charge the watch every day or so. Some had hoped that the new watch would have enough battery capacity that it could be used to track sleep as it does activity, but it's still a device that you have to remember to charge as often as your phone, not something you can realistically sleep in.
Siri still isn't great. As the watch is still a pretty tiny screen, it's far easier to receive messages than it is to compose them. Dictating to Siri is the simplest way (although you can sit there and draw out letters with your fingers if you'd like), but the voice assistant's listening abilities are still as subpar as they are on any other Apple device. Expect some comical typos.
These are large devices. If you thought the old Apple Watches were too big for your wrist, then you're not going to like the new ones. I am a rather chunky man with correspondingly chunky wrists, so the new 44mm watch doesn't feel too massive on my wrist, but it almost certainly will look oversized on people with more slender wrists. Even the smaller option looks giant on many women's wrists.
These are costly devices. The first three models of the watch started at $349, but this year's model starts at $399, and if you're buying the larger 44mm size, it starts at $429. If you want one that has LTE data capability, you need to add on another $100. Apple's newest iPad starts at $329, although, admittedly, it would look terrible strapped to your wrist.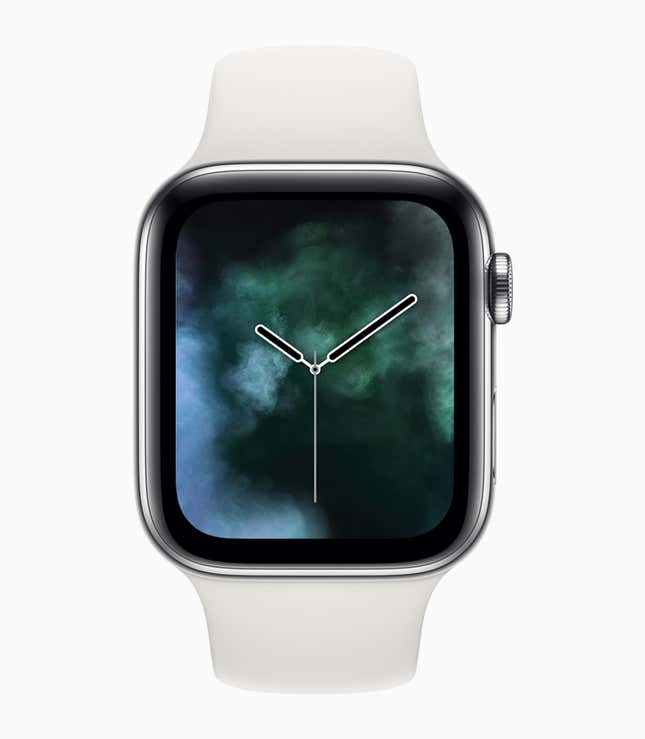 Should you get one?
If you've been thinking about picking up an Apple Watch but have avoided it so far, Apple really seems to have nailed it with the Series 4. Much like it took Apple four tries to perfect the iPhone (and some would argue it's not been topped since then), it feels like the fourth generation of the Watch is the one where Apple finally nailed everything it promised with the original design. Last year's Series 3 had a lot to like about it, but the big, sharp screen, the improved battery, the new watch faces, and louder speakers have really sold me on the Series 4. I'm actively not looking forward to returning to my personal Series 3 after a few weeks with Apple's latest watch.
All this being said—the Apple Watch is still, in my opinion, a relatively niche device. If you aren't a particularly active person, if you're not particularly concerned with your heart health, or don't feel as if you have a constant barrage of notifications on your phone you need to combat, the reasons for buying an Apple Watch remain slim. It's a great health-tracking device, and it's slowly nudging me to be more active, and I can see the heart-monitoring and fall-detection features being massively popular with the US's aging population. The run tracking and the fact that I can download music to my watch and leave my phone in the locker room at the gym is great—it's like a modern version of the iPod Shuffle that Apple so mercilessly killed off last year. Apple Watches are also very useful if you work on your feet or can't be on your phone at work. But if these aren't situations you find yourself in too often, there may not be a need to strap a second mobile computer onto your wrist to complement the one in your pocket.
Correction: An earlier version of this story said the watch can take a rudimentary echocardiogram, rather than electrocardiogram.