If you care about humanity, you should be doing what you can to make your city more cyclist- and pedestrian-friendly. Almost everyone benefits, especially the most vulnerable among us, including the poor, the elderly, and the lonely.
That's one of the multitude of arguments in favor of walkability Jeff Speck, (author of Walkable City: How Downtown Can Save America, One Step at a Time), lays out in his new book Walkable City Rules: 101 Steps to Making Better Places. 
Speck, a city planner and urban designer, is passionate about making cities walkable and giving people the tools to do so. (You can check out his "general theory of walkability"  here, as a TED talk.) In the past, he's sold walkable cities on the good they do for the environment, people's health, and house prices. He describes his forthcoming Rules book, out next week, as "a tool for people who care to help them make changes." In it, Speck introduces new data that gives walkable cities yet another selling point: equity.
If you care about the health, happiness and safety of all your residents, making your city more walkable is one of the greatest things you can do.
Walkability has a price we should pay
"Because it favors urbanism," Speck writes, "walkability is prey to charges of elitism." The most walkable neighborhoods in the US often become its least affordable because they're very desirable. But improving walkability helps everyone, argues Speck, and particularly the poor. The same is true of making cities easier for cyclists.
Imagine a typical cyclist—and specifically someone who rides to work. Perhaps you're thinking of a executive who switches from lycra to his suit in the gym near the office or a denim-clad techie who pedals into town with a laptop in her backpack. You're not wrong, but you're not exactly right either. Those people aren't the most representative sample of those who rely on a bicycle for their commute. Instead, as the US Census Bureau reports, low-income people bike and walk to work the most. "If you had to pick one person for the typical biker," Speck told Quartz, "it's probably the kitchen worker getting to his shift at the fryer."
Speck lays it out in the book: "There are powerful equity reasons to invest in walkability." That's because car-centered cities only cater to the two-thirds of Americans who can drive—excluding the elderly, the vision-impaired, and people who can't afford to have a vehicle in the first place. Cities with more transit choices demonstrate less income inequality and less overspending on rent, he writes, while better sidewalks make life easier for wheelchair users and seniors alike.
But people whom Speck describes as "demographically-challenged" don't just suffer from their lack of a car—they suffer from other people's cars too, which disproportionately put them at risk. Pedestrian deaths are more common in low-income areas. On top of that, people of color are 54% more likely to be hit by a car. African-Americans and Native Americans, for example, make up 12.9% of the population but 22% of pedestrian deaths. Older people are also at more risk—those over 65 are 68% more likely to be killed.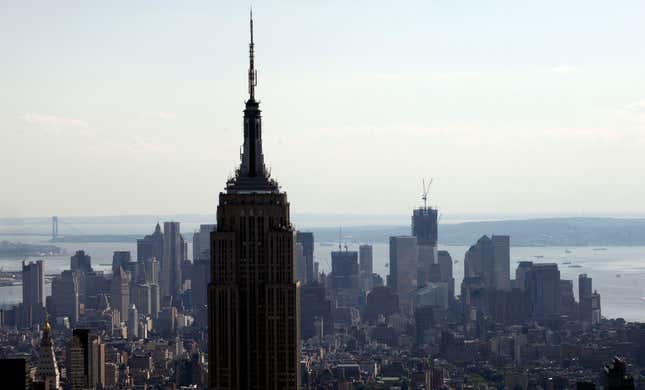 Walkable streets make connections
What about more nebulous considerations, like community or loneliness? The data stands up here, too.
People who live on heavily trafficked streets, which cater mostly to motorists, count on average about one friend. People who live on walkable streets, however, count three—and twice as many acquaintances, to boot. If your neighbors are within walking distance, and it's easy for you to walk, it's much more likely that you'll bump into them, strike up a conversation, get to know them a little. Donald Appleyard, an urbanist and planner who died in a road collision in 1982, worked extensively on the relationship between social capital and traffic. He found that on light-traffic streets, residents think of the whole road as being "home territory." On heavy-traffic streets, people seem to feel more alienated from their neighbors, feeling at home only in their own apartment or building.
The more time people spend commuting, Speck writes, the less involved they become in their local community. Researchers from the University of New Hampshire found that "levels of social capital are higher in more walkable neighborhoods." Neighborhoods that are easier to get around on foot seem to encourage people to volunteer more, join in more, and get to know their neighbors—although the relevant affluence that you need to live in those neighborhoods is probably a major contributing factor.
Since the invention of the car, modern towns have been built with automobiles at their center. But we're now paying the price—and that extends to equity. "The cities that were designed around the presumption of automobiles are actually not working at any level," Speck says, "because they get huge congestion." Instead, the cities designed for pedestrians or cyclists are the most desirable to live in—with house prices to match.
The challenge now is on working out whether it's possible to retrofit car-centric cities for a population on foot, or two wheels. Speck has a few ideas that he lays out in the book. Planners have an arsenal of tools at their disposal, ranging from the gentle (creating bike-shares that work or building more parks) to the aggressive (tearing down a highway or adopting what Speck describes as "visionary proposals").
In the end, short-term wins can only do so much to fix bad underlying design. If planners really want all the humanitarian or economic benefits of walkability, they have to be all in, Speck writes: "The ordinary fabric of a city can make it very good, but only big dreams make a city great. In attending to the day-to-day, we can't forget to pursue greatness as well."