It's been an extraordinary week for Israeli generic drugmaker Teva Pharmaceuticals. The company's CEO abruptly resigned on Wednesday after less than two years in the job, just days after emphatically denying any plans to step aside. Now, the company's share price is in free-fall amid concerns that it won't be able to attract a suitable replacement.
It all boils down to a feud between the outgoing CEO, Jeremy Levin, and Teva's chairman and biggest shareholder, Miami-based billionaire Phillip Frost, which could rank among the juiciest corporate soap operas of the year.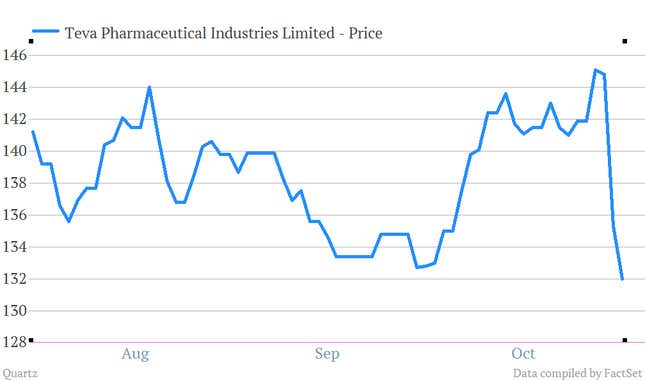 Levin, a highly regarded former Bristol-Myers Squibb executive, was brought in last year to cut Teva's cost base as it confronts expiring patent protection of its key multiple sclerosis drug, as well as falling market share in the generics industry. His hiring was seen as a significant coup for Teva—once a high-growth company popular with investors, which has lately fallen on harder times.
Earlier this month, Levin announced plans to slash 5,000 jobs, or 10% of the company's total workforce, a move that upset many in Teva's home country. In Israel, Teva is considered a corporate icon, the country's biggest listed company with a market value north of $35 billion. But its empire has been built in part on generous Israeli tax breaks, so the job cuts felt like a slap in the face and triggered a fierce backlash. Levin wanted to cut jobs gradually and was prepared to negotiate with unions, upsetting Frost, who wanted a more aggressive approach.
Throughout the month, reports of tension between Levin and Frost have spread through the Israeli media, including details of a leaked letter from Levin requesting the board stop interfering in the day to day affairs of the company.
"Differences of opinion emerged between us over implementation of the strategy. In the past few weeks, we spoke with Levin and we have decided that it would be better to part ways," Frost said in a conference call.
Frost, a septuagenerian former dermatologist worth $3 billion, according to Forbes, grew up in South Philadelphia and graduated from the University of Pennsylvania. He now lives in a $53 million mansion on Miami's Star Island, where P. Diddy also resides. He made his fortune first at Key Pharmaceuticals, which was bought by Schering Plough in the 1980s, and then at Ivax Corporation, a generic drug maker bought by Teva in 2006. The latter deal made Frost one of Teva's largest shareholders. He became chairman in 2010, replacing the late, legendary Israeli industrialist Eli Hurvitz.
While Frost remains highly respected, Levin's exit is generating unprecedented criticism both in Israel and on Wall Street. In a conference call following Levin's resignation, incredulous analysts described the decision as "disappointing" and the company as "dysfunctional", questioning why a CEO of any ability would now want to join. Frost was pressed as to why he himself hadn't resigned, or assumed the CEO role, given his meddling. He evaded the first question, and in response to the latter, reiterated that he doesn't want to live in Israel full time, something that probably won't win him any praise in the Holy Land.
He'll have a chance to make amends when the next CEO signs on—assuming Teva can find one.