Is it that time already?
The world seems to be conspiring against people who prefer to leave their holiday shopping until late. Shops put up their Santa-themed displays as soon as Halloween has passed. Online magazines publish lists of "last-minute" presents with weeks to spare. And the final fanfare comes when the Christmas lights go up in the main shopping district, far before there is a winter chill in the air.
So it goes in London. The lights along Oxford Street will be switched on Nov. 6 this year. For those keeping score, that's 49 days before Christmas. It's also one day earlier than last year.
Quartz has fed the latest data into its Christmas Creep Calculator™, which for years has harnessed cutting-edge artificial intelligence, sophisticated machine learning, and the "Add Trendline" function in Microsoft Excel to project the path of the Christmas shopping season creeping ever earlier in the calendar. Behold: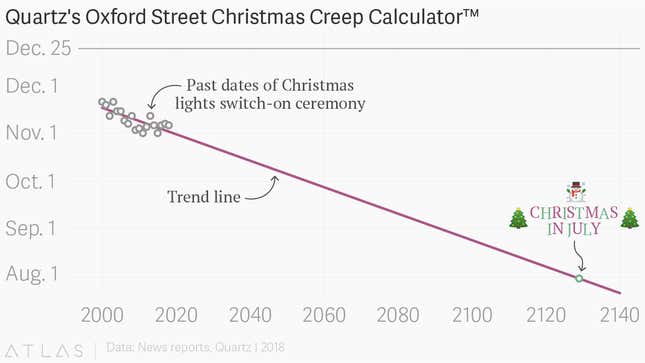 Going by current trends, crass commercialism will overcome seasonal sense around 2130, when the Christmas shopping season in London will kick off in July.
The Oxford Street ceremony to mark the start of the holiday shopping season used to take place closer to the start of December, but has been steadily shifting earlier in the calendar over the years. In both 2011 and 2015, the lights went up on Nov. 1, nearly breaking the October barrier.
While the US has Thanksgiving and continental Europe has Advent markets, Britain lacks a traditional starting point for the Christmas season. That makes it fertile ground for retailers to experiment with how far they can push the boundaries of Christmas creep. Next year will be the first Christmas after Brexit becomes official, so there could be extra motivation to get shoppers eager to open their wallets as early as possible—for the sake of the economy.