Saudi Arabia's influence in the US is being scrutinized after the disappearance of journalist Jamal Khashoggi in Istanbul.
One of ways that influence has been felt: a rush of lobbying dollars. The kingdom spent more than $19 million with Washington lobbying groups from the beginning of 2017 until now, according to the Center for Responsive Politics.
Topping that list is Sonoran Policy Group—a lobbying firm headed by Robert Stryk, an Oregon winery owner and West Coast advisor to the Trump campaign—which was essentially paid $5.4 million by the Saudi government to do nothing. The no-strings payout was a happy accident for the firm, one that happened because of Saudi Arabia's political upheaval, rather than anything Sonoran did specifically.
In May 2017, the group signed a contract with the Saudi interior ministry to be paid $450,000 a month to provide "broad advisory services" including public relations and "Congressional and Executive Branch brand engagement," according to a copy of the agreement filed with the US government. American companies that take on foreign lobbying clients must file disclosure forms with the Department of Justice.)
Saudi Arabia's interior minister, Mohammed bin Nayef, enjoyed "deep ties to the American intelligence apparatus under President Obama and had never needed a lobbyist," but that changed under Trump, and he needed some help, the New York Times reported (paywall):
This spring, however, Trump invited Nayef's chief rival—Mohammed bin Salman, the deputy crown prince and the king's son—to a formal White House lunch. The lunch sent ripples through Riyadh. Did Trump favor Salman? Accidentally or on purpose, Trump had just waded into Saudi Arabia's treacherous succession politics. Nayef found himself in need of guidance.
Sonoran was untested, but had some Trump connections. The group landed its first government account in the weeks after Trump's surprise 2016 presidential win, when founder Robert Stryk ran into a New Zealand official in the US who was bemoaning the fact that the prime minister didn't know how to contact Trump. A clutch of Trump-connected folks, including Stuart Jolly, the campaign's national field director, and Robin Townley, a former top aide to onetime Trump nation security adviser Mike Flynn, quickly signed on.
Since then, Sonoran's foreign clients have include the governments of Afghanistan, the Czech Republic, and the Democratic Republic of Congo. The Saudis, however, were the big fish.
Sonoran's July 2017 filing lists all "contributions, money or income" from foreign sources for the last six months. SPG was paid upfront for an entire year by the Saudi ministry, for a total of $5.4 million: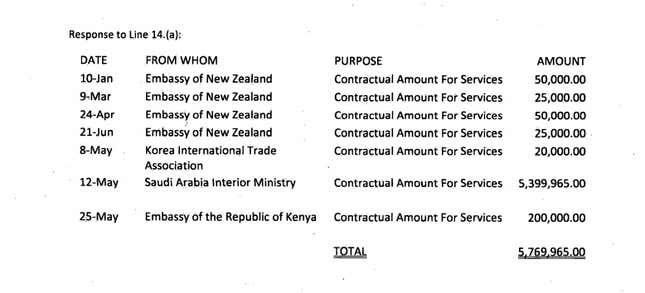 An August amendment to the May filing notes that the only "only activity undertaken on behalf of the Ministry…was the initial planning phase of a Summit to Combat Violent Extremism that was potentially going to be held at George Washington University." That event was cancelled thanks to "regime change in Saudi Arabia," the filing notes.
That's when Muhammad bin Nayef, the interior minister, was passed over for the throne for crown prince Mohammad bin Salman. Muhammad bin Nayef was relieved of all of his duties, and the crown prince, known as MBS, reportedly forbid him from leaving the country. Sonoran had the cash, but its client had no more power.
"SPG was excited about working with the Saudi Interior Ministry to help combat violent extremism," the firm said in a statement at the time to Politico. "Due to internal circumstances in the Kingdom our contract was truncated and SPG was unable to implement our unique strategic services…We look forward to again working with our vital ally Saudi Arabia and bringing our global reach to the fold as we do for all our clients."
SPG didn't respond to questions about the $5.4 million deal. Lobbyists need to report specific contacts with US officials when they're representing foreign governments, but Sonoran didn't make any on behalf of the ousted crown prince. It is, Washington lobbyists note, an extraordinarily high amount for any government to give a lobbying firm.