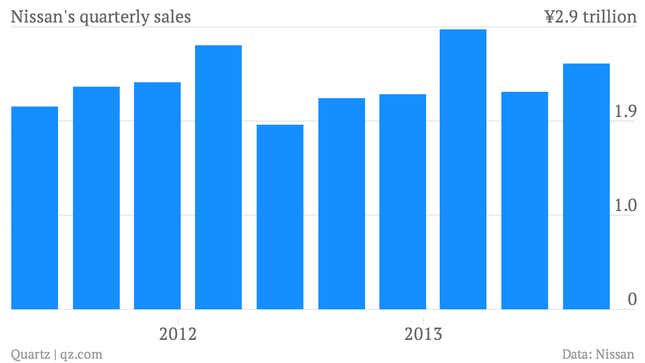 The numbers: Pretty bad. Even though July-September sales hit ¥2.5 trillion ($25.4 billion) (pdf), 16% higher than the same quarter last year, Nissan's net profit came in at ¥107.8 billion ($1.1 billion) this last quarter, a mere 2% increase. A bigger worry is that the company cut 15% off its full-year profit forecast, saying it will now earn net income of ¥355 billion yen in the year ending March 31, 2014. Though that's still bigger than the previous year, the increase will be due in no small part to the weaker yen.
The takeaway: Nissan may be growing too fast to keep a handle on quality. A current sales recall of 188,000 Nissan and Infiniti SUVs–their brakes might not work–will cost an estimated ¥15 billion, reports Bloomberg. But it's not just the recall that's the problem. Nissan's staking its growth plan on some volatile economies. Emerging-market demand from everywhere but China and Mexico fell off in Q3. Thailand and Indonesia are particularly shaky. Nissan's nonetheless basing its growth on an emerging-market long game. It's planning on doubling Africa sales by 2016, and will soon be the first global carmaker to build cars in Myanmar (paywall). That's probably a good thing, though it will mean more volatility to come.
What's interesting: Is Nissan's growth too fast for a single chief operating officer (COO) to keep up with? Maybe. The company announced a big management shakeup that will see current COO Toshiyuki Shiga moved to external affairs. But instead of replacing him, Nissan CEO Carlos Ghos–he's staying put, by the way–is splitting the position into three roles: chief competitive officer, chief planning officer and a chief performance officer. Perhaps two CPOs and a CCO are better than one COO at controlling quality–something Nissan needs to tighten up given that sales recall. Or maybe Ghosn's just anti-"operating." As Bloomberg notes, this COO mitosis is similar to what Ghosn pulled at Renault SA, where he's also CEO.