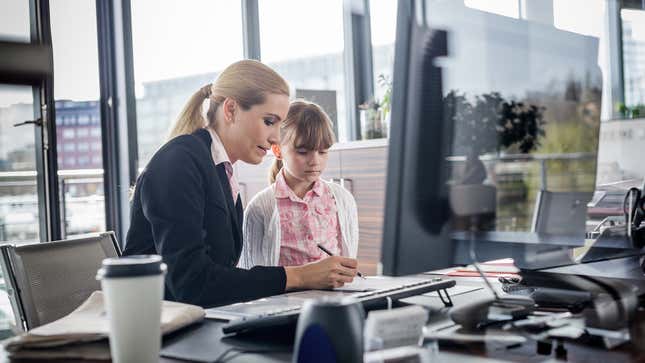 Walmart. Tesla. Samsung. These immense, multibillion-dollar companies, while members of different industries and born in different eras, share one critical trait: They're all family businesses.
Family businesses cast a long shadow in our global economy. These companies, wherein at least 20% of either shares or voting rights are held by founders or their descendants, are major employers and contributors to GDP. What's more, since 2006, these companies have also outperformed their non-family-owned counterparts, according to Credit Suisse's Family 1000 report, which examined the metrics and traits that differentiate family and non-family companies.
The success of these family companies, which is consistent across regions and industries, offers some vital lessons that other businesses and investors can learn from. Here are a few:
The Alpha Factor
Family businesses owe a lot to their unique way of doing things. Dubbed the "Alpha Factor," this secret sauce is what tends to make them perform better than their non-family owned competitors. From L'Oreal to Missoni, they typically have a clear long-term focus, and are generally committed to investment in R&D for growth from within. For evidence, look no further than the innovations coming out of UK-based Dyson, which has invested billions into R&D to reinvent products such as the bagless vacuum, and hand and hair dryers.
They are found the world over, in every sector, and have one simple thing in common–outperforming their competition.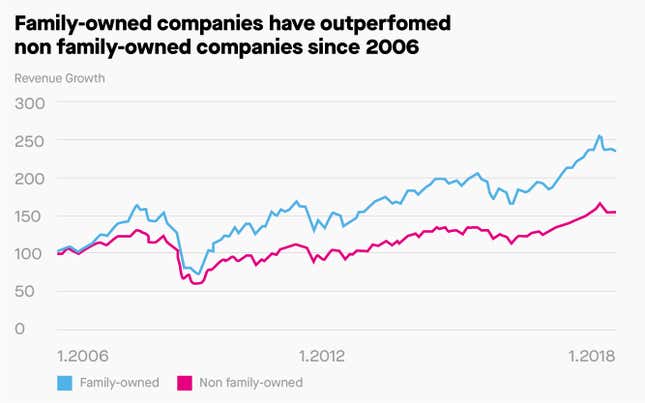 Independent and self-reliant  
Using the Family 1,000 database, comparisons can be made against non-family owned companies. When this is done alongside data from Credit Suisse, it's clear that "family companies are typically less reliant on funding from shareholders or banks. They tend to adapt quickly, and are typically realistic about growth targets–this creates an environment which celebrates steady progression and means more growth over time.
Energy and resilience
Whether it's a first-generation family start-up or a fifth-generation multi-national, family businesses outperform consistently. In particular, Non-Japan Asia and Central America are seeing young, dynamic family businesses bursting onto the scene in the emerging tech sector, while performance (although diminishing over time), remains strong in Europe and the US for older, more resilient businesses. This can be attributed to a tendency to be conservative in nature, minimizing risk where possible, giving stamina to outlast their more volatile competitors with the presence of mind to carefully balance the books.
Good growth, healthy profits
The family businesses looked at as part of the study grew faster than their peers and are generally more profitable. While a broad statement, this can usually be attributed to a tendency to reinvest, as well as being more flexible about cash-flow.
Notably, Non-Japan Asia sees more investment in R&D than anywhere else in the world–possibly tied to younger, more tech focused, first generation family businesses.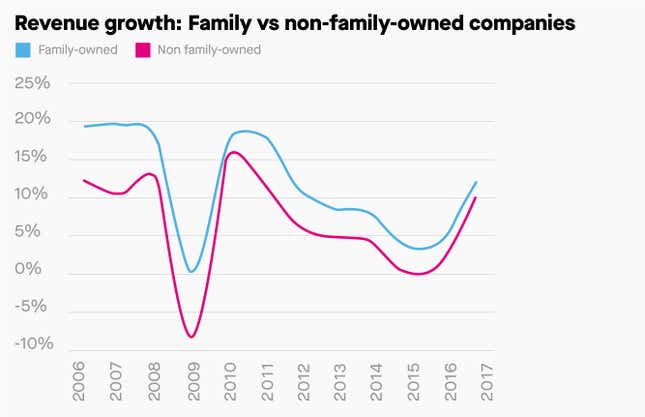 Outperforming the world over 
One key feature of "Alpha Factor" businesses is that they are not regional phenomenon. European family businesses make up a 23% of the Family 1000, with companies most commonly found in France, Germany, Switzerland, Italy, the UK, and the Netherlands. What does differ by region, however, are sectors. In Europe finance and healthcare have seen recent rapid innovation through technology.
Although the best performing family businesses in the United States are worth more than their European counterparts (with an average market cap of US$11.5bn compared to Europe's US$4.7bn) and also outperform peers, the market is less dynamic than in other countries. They tend to be found in less rapidly evolving sectors such as consumer goods, materials, and energy.
Asia by contrast, is a family business fantasia. China dominates the Non-Japan Asian market, with 149 businesses in the Family 1000, and India coming in a close second. Technology represents 45% of the companies surveyed in China, and financials represent more than 30% of the market value of family-owned companies in Indonesia, Malaysia, Taiwan and Singapore.
Embracing the Alpha Factor
The takeaway here is clear: Family businesses are unique in ways that directly contribute to their success. Companies such as L'Oreal, Missoni, and Nike are all defined by a disciplined focus on long-term growth, an aversion to significant debt, heavy investment in research and development, and, most notably, a fierce independence.
The bottom line: Family- and founder-owned companies are outperforming their peers because they're focused on the long-term. Not every company can operate like family businesses, but more companies can think like them.
Learn more about why family businesses do better and read the full report.