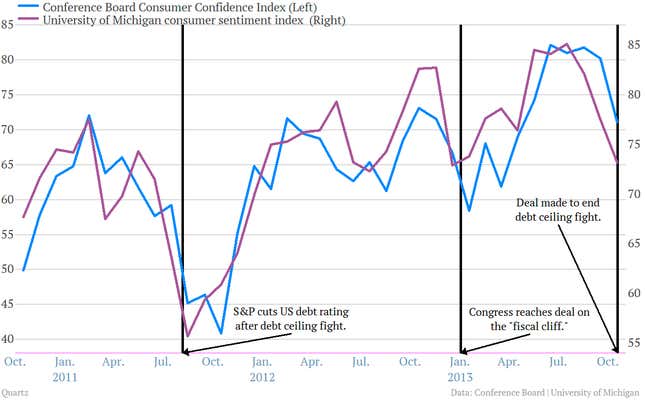 The above chart is a nice demonstration of the fatigue the appears to be setting in among consumers with Washington's now-annual fiscal shenanigans. When the 2011 debt ceiling fight and ensuing credit rating downgrade were in full swing, consumer confidence took a serious beating. The fiscal cliff in 2012 had less of an impact, while this month's government shutdown had an even more muted effect.
Today, Detroit's "big three" automakers released sales figures for October. And they're surprisingly good:
General Motors posted a 16% jump in October sales, selling around 226,000 vehicles. Its shares are up by about 2% in early morning trade.
Ford grew October sales by 14%, selling 191,985 new vehicles. Sales of its high-end Lincoln brand were up 38%.
Chrysler posted 11% growth, selling 140,083  vehicles. This was its strongest October since 2007.
Auto sales are often viewed as a leading indicator for the health of consumer spending, which itself represents about two-thirds of the US economy. If October's anything to go by, then maybe, just maybe, concerns the shutdown would materially dent economic growth in the world's largest economy were a bit overcooked.