The Swedes and the Swiss generally enjoy a sterling reputation in China. The Middle Kingdom can't get enough of Ikea, H&M and Volvo. And once the new administration's crackdown on luxury goods calms down, wealthy Chinese will be united once again with their beloved Swiss watches.
There's just one problem. Many Chinese people can't tell the difference between Sweden and Switzerland. That's perhaps because the Chinese names for the countries are very similar, sharing the same first character—Sweden is Ruidian (pronounced in Mandarin as "ray dee-yan"), while Switzerland is Ruishi (pronounced in Mandarin as "ray sure"). This has become bad enough that the countries' Shanghai consulates are holding an online competition to differentiate the two. The winner, who will be announced later this month, will get a trip to both countries.
To get things rolling, the contest's promotional webpage clarifies that Sweden is the land of "aurora borealis, ice hotels, sled-pulling reindeer, Pippi Longstocking, gay marriage, red Dala horses, Vikings, meatballs, [Alfred] Nobel and stay-at-home dads." Sweden's European peer, Switzerland, on the other hand, is renowned for "the International Red Cross, the United Nations, milk cows, cheese fondue, watches, Federer, Rhine waterfall, banks, Alps, chocolate, wine." Here's the visual from the campaign: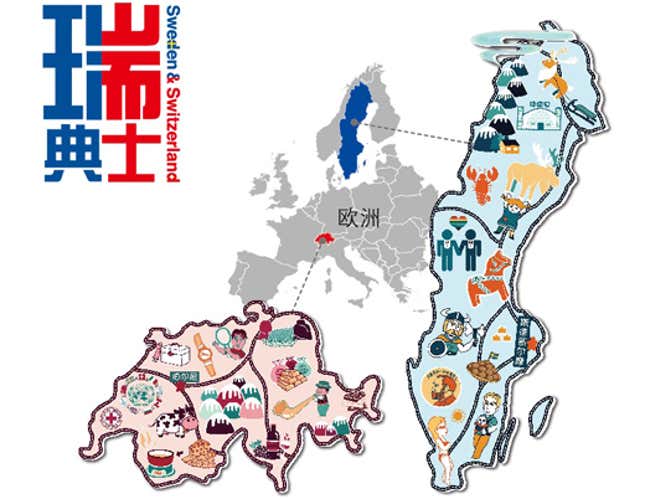 China isn't the only place where people can't keep Swedes and Swiss straight. Americans and Spaniards struggle, too. So why target the Chinese?
It might have something to do with the spending juggernaut that is Chinese tourism, now the world's biggest source of tourism dollars. While fewer travelers from recession-ravaged Europe visited Sweden in 2012, Chinese tourist numbers surged 11% from the previous year, based on the number of overnight stays.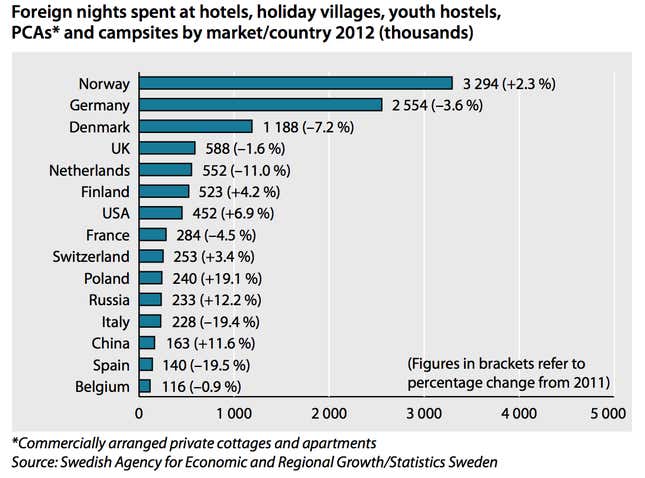 That's critical given that tourism is one of the lone beacons of growth in Sweden's otherwise dim economy. The sector grew 5% in 2012, compared with the previous year, hitting $41 billion. Tourism accounts for about 7.8% of Sweden's 2012 GDP.
Compared with sled-pulling reindeer in Sweden, Switzerland's cheese fondue and banks might sound drab. But the Alpine nation is also way ahead of Sweden as a draw for Chinese tourists, perhaps because it's been actively marketing itself as a luxury travel destination (paywall) to wealthy Chinese. The country ranked 14th last year among countries with the highest number of visits by Chinese nationals. And those 663,000 marked 33% growth from 2011. It's now trying to figure out how to get Chinese tourists to ski.