Traveling by air should always be comfortable, no matter the length of the journey. But today's increasing number of ultra long-haul routes are putting that notion to the test. Airlines competing for bookings on non-stop flights that can last upwards of 18 hours must first assure passengers that, although spending so much time in the air may sound daunting, the actual experience can be a pleasure.
A pioneer of long-haul travel and known around the world for the highest standard of passenger care, Singapore Airlines is introducing innovations in service and cabin design specifically geared toward the longest journeys. Perhaps this is best exemplified by the early October launch of the airline's route between New York (Newark) and Singapore, which broke the record for the world's longest non-stop flight at 18 hours and 45 minutes, and proved—once again—that passengers can anticipate Singapore Airlines' celebrated service on every flight, no matter the duration.
There is a unique challenge to caring for passengers for nearly 19 hours at over 35,000 feet. And Singapore Airlines' approach to adapting its world-class cabin experience for this new generation of travel on its fleet of Airbus A350-900 Ultra Long Range is nothing short of scientific. The process began with passenger surveys and focus groups intended to identify the pressure points of traveling on very long flights, according to Betty Wong, Singapore Airlines' Divisional Vice President of Inflight Services and Design. "We already knew a lot about ultra long-haul flying because of the non-stop flights from Singapore to New York and Los Angeles that we operated until about five years ago, but the research helped us to see if expectations had changed," she says.
Indeed, they had. Among the findings was a strong concern about getting enough rest and sleep aboard flights, followed by access to a variety of in-flight entertainment options. No surprises there, says Wong. But passengers also voiced a desire for more flexible meal service, as well as menu choices appropriate for active lifestyles. "There was a segment of people who are into wellness and wanted to see that as an offering," says Wong.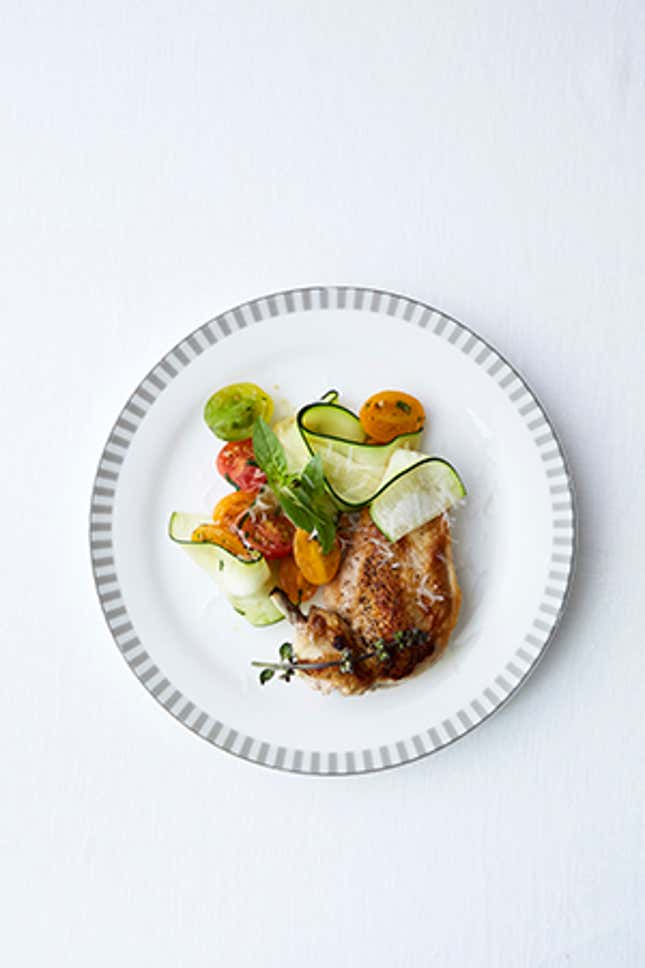 This insight led to a partnership with Canyon Ranch, the world's top integrative wellness brand, geared toward enhancing customer well-being on the world's longest flight, from food service and fitness to sleep and rest. To kick off the initiative, Singapore Airlines' chefs and catering teams spent three days in the Canyon Ranch test kitchen in Tucson, Arizona, working with the brand's nutritionists and wellness experts to develop foods and beverages that blend the bold flavors of current dining trends with seasonal and organic ingredients.
"The Canyon Ranch food philosophy is simple. When you eat better, you feel better," says Wong. "With a 19-hour flight, your body requires less food, given the reduced activities. Our menu takes that into account." The wellness menus are, of course, just one of the meal options available on ultra long-haul routes, which like all Singapore Airlines flights, feature cuisine created by the airline's International Culinary Panel of chefs.
As for flexibility in meal service, Singapore Airlines has catered to that as well. For example, on the Singapore to New York route, breakfast three hours before arrival is no longer served, as the activity and smell of food in the cabin during meals tends to disturb passengers who want to sleep. "Based on Canyon Ranch's advice about sleep patterns, we're doing this for those passengers who want to reset their clocks during the flight and get their sleep as close to our 6 am landing as possible," says Wong. "Otherwise, we would be waking them up three hours before arrival, which would be 3 am in New York time."
Instead, business class passengers can request meals that fit into their own sleep schedule or take advantage of à la carte hot and cold food items available throughout the flight, including Singapore favorites like hawker market-style chicken rice and saté skewers. "In the middle of flight if you want to have some dim sum, there will be dim sum on board," says Wong. "We've come to understand it's about flexibility on the 19-hour flight."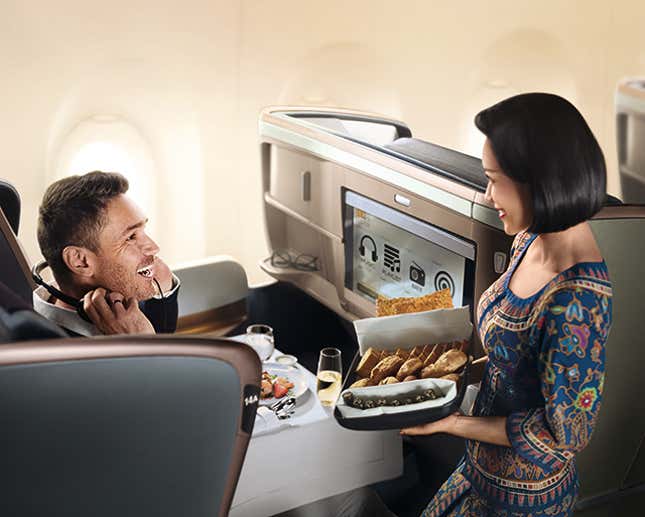 It's also about control. Every seat in the aircraft has Singapore Airlines' state-of-the-art interactive in-flight entertainment system, KrisWorld, which can be programmed up to 48 hours in advance of departure by downloading the SingaporeAir mobile app. Passengers can create a customized playlist from an extensive library of music, films, TV shows, and magazines, including 200 hours of programming added especially for the airline's ultra long-haul flights. Once onboard, passengers simply synch their smartphones with KrisWorld and to access their preferences.
Among the entertainment options, passengers will find Canyon Ranch's suggestions for better sleep and advice on adjusting to new time zones, as well as instructional videos for exercises that can be done in the seats and aisles of the new A350-900 ULR. The plane is equipped with high ceilings and large windows that contribute to the feeling of comfort in the air. "The focus is really about planning how you want to rest and how you want to arrive at your best," says Wong. To improve passengers' rest, Singapore Airlines' also consulted Canyon Ranch on LED lighting configurations and colors. Depending on the flight, crew will turn on the red, amber, and yellow lights to help passengers relax, and blue colors to energize them.
Another design feature, the aircraft's carbon fiber fuselage, also improves the passenger experience, allowing for both greater pressurization of the cabin, says James Boyd, Singapore Airlines' Vice President of Public Relations. "That creates a noticeable improvement in your sinuses, in how dry your skin feels, how dry your eyes feel." As a side effect, he adds, passengers may even notice that their meals taste better, since smell is a big part of flavor and lower humidity affects the nose.
It's just one more example of how Singapore Airlines has taken every aspect of its customers' wellbeing on ultra long-haul flights into consideration. "We're the only airline in the world with ten years of experience in ultra long-haul flying, so we have extensive experience in this space," says Boyd. "We're giving passengers the ability to get a great night's sleep, dine when they wish, and enjoy more than 1,400 on-demand entertainment options on one of the industry's most sophisticated entertainment systems."
"That's just about everything that you would need," he says.