As the news continues to unfold regarding the disappearance and murder of Saudi Arabian journalist Jamal Khashoggi at the Saudi consulate in Istanbul, Saudi state media has released an image of his son Salah meeting with King Salman and crown prince Mohammed bin Salman, who is widely believed to have known about or ordered the killing.
The scene underscores the political dynamics currently at play. News outlets are reporting that King Salman has reinserted himself into a place of power over his son in order to deal with the ongoing investigations. In the photos, he is the main figure greeting Khashoggi's sons Salah and Sahel.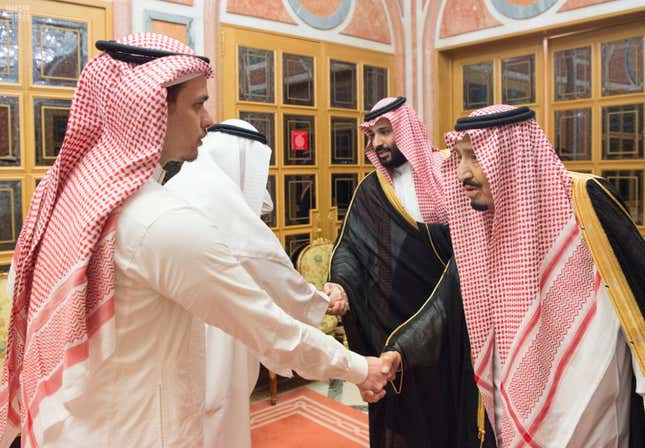 Salah, a US-Saudi dual citizen, is currently under a travel ban and is unable to leave the country. With his mostly blank expression and inability to leave the absolutist monarch country, the photo could reasonably lead a viewer to wonder if he had any part in seeking a meeting with the royal family—or if the photo-op was arranged as a way to deflect attention from investigations into the prince's role in Khashoggi's murder.
This story has been updated to fix a misspelling of Salah Khashoggi's name.