CyPhy makes nightmarish contraptions for its military clients: flying drones that can be easily operated on the battlefield, and which never need to be recharged because they're tethered to a power supply. The periodically dormant company (at least publicly) is about to get a fresh infusion of cash.
CyPhy is the second act of iRobot co-founder Helen Greiner, maker of the famed Roomba robot vacuum cleaner, arguably the first homebound robotic product to win over mainstream consumers (the company does about a half billion dollars in sales per year). CyPhy spent years in "stealth" mode before unveiling its products, a pair of drones, in December 2012. At the time, it was estimated that the company had about $3 million in financing—not a lot for a hardware startup. Since then, CyPhy hasn't announced anything of substance, but today's $7 million round of funding, led by Lux Capital and including General Catalyst Partners, Felicis Ventures and some anonymous angel investors, indicates that someone has faith in the company's indefinitely hovering drones.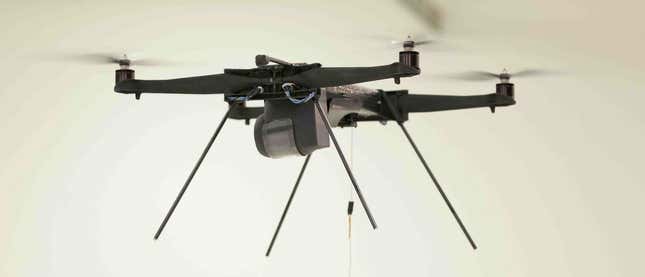 According to CyPhy, its "Persistent Aerial Reconnaissance and Communications" (PARC) drone looks like other small "quadcopter" drones, but it connects to the ground or its handler via a microfilament thinner than a headphone cable.

Cyhis microfilament gives the drone "persistent stare capabilities," according to the company's website. It can fly up to 1,000 feet above the ground, for as long as the power holds out. The drone can also be used as a communications relay station, and if it loses power or its tether is cut, it has a battery backup and enough brains to land by itself.

CyPhy's other drone, the "Extreme Access System for Entry" is intended to hover into buildings ahead of soldiers, much like iRobot's ground-based PackBot. Imagine EASE floating in through your bedroom window as you slumber in a bullet-riddle hut in Waziristan, and you've got the idea.
CyPhy's drones have already been tested by the military, but it seems the company would like to branch out. In an announcement about this funding round, CyPhy noted that it "will expand its development and deployment of UAVs in surveying and situational awareness for commercial sectors such as agriculture, mining, construction, oil & gas, insurance, infrastructure and others."

Whether that means replacing the world's night watchmen with drones—the PARC can see in the dark—or finding other uses for the drones isn't clear. But if drones that never have to land come to life, we'll be one step closer to a world in which flying surveillance robots are a permanent fixture in our skies.