This article was updated with information about the suspect who has been arrested at 12:15pm. 
A 50-year-old man has been arrested in Florida in connection with the explosive devices to this week to George Soros, Hillary Clinton, Barack Obama, CNN's New York offices, representative Maxine Waters, and most recently Robert De Niro,  Joe Biden, and senator Cory Booker.
Law enforcement and counterterrorism experts say that the selection of targets suggests a politically motivated terror attempt. And one thing ties them all together; each target has also been a prominent object of Donald Trump's vitriol during his time as president.
Hostile political discourse in the US
"This is beginning to look like some individual who is acting out on behalf of what he is hearing from people who are running for office or elected officials," John D. Cohen, a counterterrorism coordinator for the Department of Homeland Security, who is now a professor at the Rutgers School of Criminal Justice, said on Oct. 24, before the Biden and De Niro incidents. Information about the suspect is limited, but Florida law enforcement were spotted towing a van covered with pro-Trump stickers.
Trump often invokes Clinton and CNN as enemies during his "Make America Great Again" rallies and praises physically hurting enemies. Trump's predecessor, Obama, has been a longtime target. The president has belittled Waters and other women of color, referring to Waters as a "Low IQ individual." In turn, other politicians have echoed his verbal attacks. Crowds at Trump rallies have demonstrated fury towards the press, and Waters and news organizations have fielded death threats.
In the past year, law enforcement officials have been "extraordinarily concerned that—based on the polarization and hostile nature of our political discourse—we would see an increase in people carrying out acts of violence," Cohen said. In other words, they worry that hateful speech could provoke hateful action.
Both left and right have seen tensions skyrocket on issues like the confirmation of Supreme Court Justice Brett Kavanaugh, who was accused of sexual assault, and on how to respond to migrants and asylum seekers at the US-Mexico borders. Ahead of the November midterm elections, the Republican Party's stated strategy is to stoke emotion among Trump's base, often by fueling grievances against immigrants, Democrats, and the media.
Terrorism is growing in the US
Terrorism is rising in the US, and falling around the world, the Global Terrorism Database shows. That rise is fueled mostly by right-wing and religiously-affiliated groups, as Quartz's Luiz Romero wrote.
Homegrown violent extremists "clearly represent the most immediate and most ubiquitous threat to us here inside the United States on a daily basis," Nick Rasmussen, the outgoing head of the US's National Counterterrorism Center, said last November. "Most terrorists are either born or raised here, or only became radicalized well after they came to the United States," he said.
In recent years, America has experienced a "dramatic increase in attacks by disaffected people, and people searching for some sense of accomplishment," Cohen said. They connect with a "cause" whether it is white supremacy or Al Qaeda, and then "use for a motive of committing a violent attack," spurred on by what they're seeing on social media and the internet. The people most easily swayed by hateful rhetoric are often "looking for legitimacy and a sense of validation for their violent tendencies," Cohen said.
The National Institute of Justice, the US DOJ's research arm, published a report this June synthesizing different research that it had funded in recent years on the US's homegrown terrorism problem. So called "lone-wolf" terrorists "frequently combined personal grievances (i.e., perceptions that they had been personally wronged) with political grievances (i.e., perceptions that a government entity or other political actor had committed an injustice)," the report found.
In particular, "feeling that one (or one's group) has been treated unfairly, discriminated against, or targeted by others may lead individuals to seek justice or revenge against those they blame for this situation," the report notes.
Those grievances feed into a cycle of reinforcement and radicalization that culminates in a violent act, the report finds: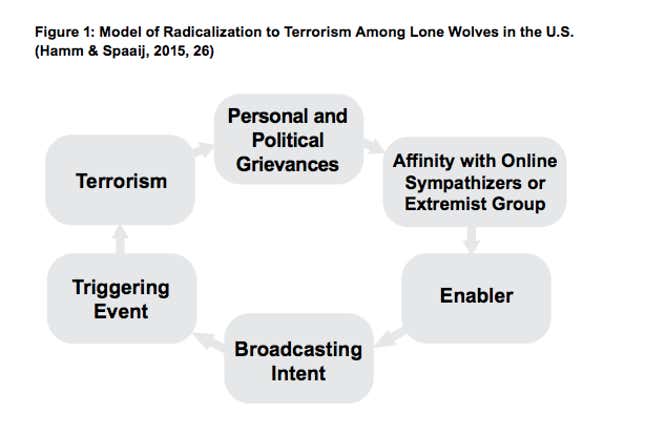 Dylann Roof, the ninth grade dropout who killed nine African Americans in a church in 2015, was radicalized after reading the white supremacist website "Council of Conservative Citizens," online, he claimed. Nikki Haley, then governor of South Carolina, warned on the one-year anniversary of Roof's massacre that Trump's divisive campaign statements could spur similar incidents. James Alex Fields, who killed a woman protesting a white supremacist rally in Charlottesville, was a violent teenager who was kicked out of Army basic training, then seemed to find a community in online white supremacist groups.
James Hodgkinson, who shot at a Republican baseball team last summer, had been arrested for punching a woman, and had posted increasingly angry social media messages directed at Trump and Republicans before the shooting.
Stochastic terrorism
Back in 2011, an anonymous writer coined the term "stochastic terrorism" to refer to "the use of mass communication to incite random actors to carry out violent or terrorist acts that are statistically predictable but individually unpredictable," or, in other words "remote control terror by lone wolf."
Stochastic means "having a random probability distribution or pattern that may be analysed statistically" but are hard to predict precisely. Vitriolic messages disseminated by pundits like Glenn Beck, Sean Hannity, and Bill O'Reilly will have the same effect as Osama bin Laden's videotaped calls to violence, the writer warned way back in 2011.
Someone, somewhere, would react—it's just hard to predict who and when.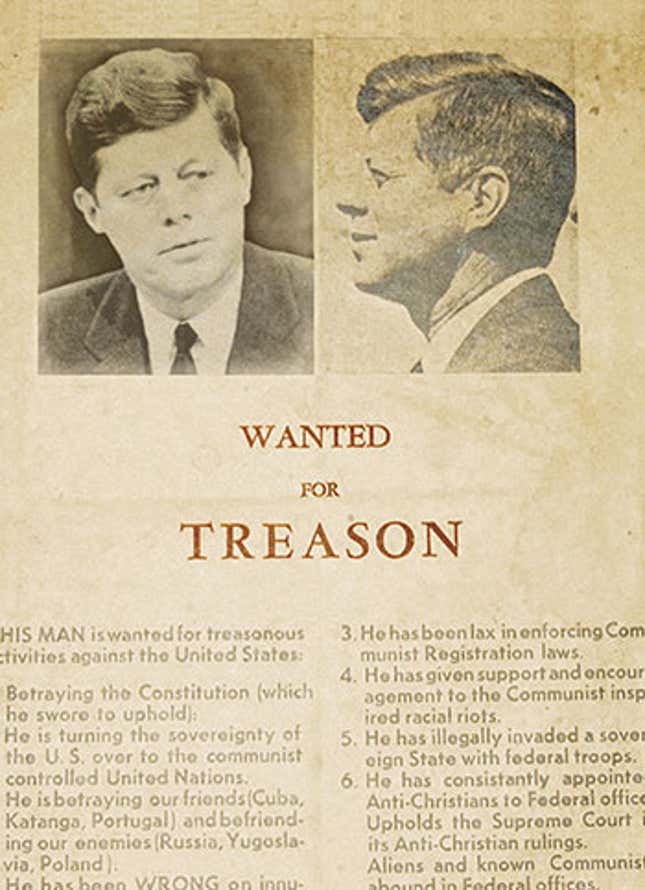 Trump has often been accused of inciting violence. In August 2016, as a presidential candidate, he suggested that the "Second Amendment people" could do something to stop his opponent Hillary Clinton from picking liberal judges, if she won that year's election.
The implication was clear: People who rely on the constitutional right to bear arms (presumably gun owners) had a unique means of stopping his Democratic rival. Trump denied that he was calling for Clinton to be shot. Rolling Stone and others dubbed it a case of stochastic terrorism.
The term was quickly embraced by the Pell Center for International Relations and Public Policy, among others, to describe Trump's violence-tinged campaign statements. Pell also recalled a potential example of stochastic terror from the 1960s: Dallas newspapers and flyers accused John F. Kennedy Jr. of being a "traitor" and a "communist," just before he was assassinated there.
The motives of Kennedy's killer, Lee Harvey Oswald, have never been fully understood. But some biographers believe the atmosphere of "hatred, hysteria and fear" in Dallas culminated in his death.
The Department of Homeland Security is hamstrung on homegrown terror
For years, US officials have been saying that homegrown terrorism is surging, particularly on the right. But after Trump took office, the administration cut funding for the Department of Homeland Security's Countering Violent Extremism (CVE) program—except to address Islamic-inspired terrorism. It was a dangerous mistake, anti-terror activists said at the time.
"We have hundreds of thousands of homegrown sovereign citizens and militia members with ties to white nationalism, training in paramilitary camps across the US and standing armed in front of mosques to intimidate marginalized Americans," warned Christian Picciolini, a former skinhead who co-founded Life After Hate, to rehabilitate extremists, last year. "The greatest terror threat we face as a nation is already within our borders, yet we refuse to even call it terrorism when it happens."
Under Trump, the DHS has focused instead on curbing immigration, despite the fact that immigrants are less likely to commit violent crimes than US residents. As the investigation continues into the explosive devices sent this week to prominent Democrats and critics of Trump, the federal government remains reluctant to publicly call it terrorism.
"Regardless of what the motive turns out to be, this incident should serve as a major wakeup call to not only this administration but elected officials across the country," Cohen said. From a "public safety perspective," politicians need to stop "demonizing people for their political views and emphasizing a 'we vs. them' mentality," he said.