This story is part of What Happens Next, our complete guide to understanding the future. Read more predictions about the Future of Gaming.
Professional gamers will soon be battling pro athletes not just in virtual and IRL stadiums, but in business and entertainment, too. And I should know—because I play both.
When I was a junior in high school in 2004, my brothers started playing a game called Dota (Defense of the Ancients). At first I made fun of them, but after a few weeks of hearing them rave about the game, I gave it a try. The next thing you know I was all in, and I've been playing ever since. I still play at least a couple of times a week—at home, on the road, in a hotel room—especially after a tough game on the court.
Gaming has changed a lot since then. It's developed an entire life of its own. Stadiums are filled with passionate fans, people are flying across the world to compete, and players are leveraging sponsorships and making businesses out of themselves. To give you an idea of the money you can make, the prize pool for Fortnite alone in the 2018-2019 season is $100 million. In the NBA, the average player makes $7.4 million a year and only 15 players in the league earn more than $25 million a year. Compare that to this year's Dota 2 International, where the prize pool was the same amount—$25.5 million. That gets split across the winning teams and their players, but it's still pretty legit.
The barrier to entry for esports is also so much lower than pro sports. You don't need to wait for open-hours at your YMCA gym and hope that enough people show up and pay their membership to shoot some hoops. You don't need another nine people in the same place at the same time with the same skillset—you don't even have to wait until the sun's up at the local park or stop playing when it goes down.
Esports is therefore democratizing entertainment. It's free, and all you need is a good internet connection to play. Mobile gaming was a game changer for this accessibility: You don't need an expensive console to play anymore, and some of the best games are literally in your hand.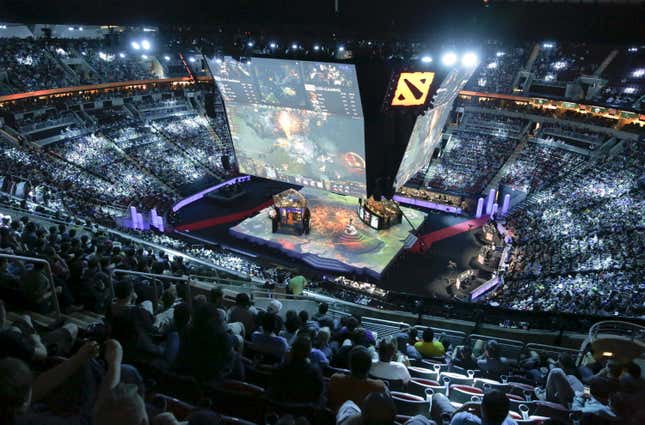 Because of its truly global nature, you're also being exposed to people who come from different cultures and countries and religions than your neighborhood ball court. It gets you out of your bubble. The tournaments bring people from all over the world together—professional sports only do that during the Olympics or events like the World Cup. Teams are often made up of players from all around the world who have to learn how to work together and get along; there were 24 countries represented at The Dota 2 International last year.
Esports vs. pro sports
That's why I believe the future of gaming is about technology, content creation, and community. The world is becoming increasingly more savvy, digital, and social, and that means video games are no longer a fringe solitary pastime you play alone in your bedroom. The gaming industry clocked $100 billion in revenue last year, and it's estimated that 2.2 billion people are active gamers.
The social component is what will make scaling the industry possible. Not only do you game with other people—whether it's with your housemates in the same room, your friends across the country, or strangers on the other side of the world—you now watch other people play video games, just like I used to watch my brothers on the couch. Stadiums sell out tournaments with more than 15,000 attendees, and half a million people can tune in online to watch a single game.
I own my own esports team, J.Storm. In 2016, I got involved with Vici Gaming, a top esports organization in China, to get a feel for what it was like to run an organization from a ground-level approach. I liked it so much that I decided to start a North American team a year later, which is now J.Storm. We made it to The International in 2018 and finished seventh in Dota 2, winning over $630,000—much higher than anyone expected us to at the start of the year. We've now signed on some Fortnite players too, and have full-time staff to support all our players in their professional endeavors. Being involved in the day-to-day gives me a better understanding of the challenges esports players have, the business side, and the culture surrounding the scene.
Professional athletes and professional gamers are more similar than people may think. Competitiveness, problem solving, confidence—they're all part of the mental component, which is a huge part of both games. On the top level, many people have real skills and talent, but what really separates the best from the competition is mental toughness.
You have to be physically gifted, too—my trainer even developed a workout program for my esports team. For esports, a lot of it is hand-eye coordination, and there are so many people who just don't have that. That talent creates that wonder. Like any pro sport, there's an infatuation where you love watching people do things that you just can't do. You can train all you want, but you'll never be as good as they are.
Esports players are therefore becoming celebrities in the same way pro athletes are: When you go to competitions, they're mobbed. They have whole arenas chanting their names. Whether I'm playing a game in front of 20,000 people or sitting in an esports stadium watching a live Dota 2 match, the fans are just as crazy at both. And the stadiums themselves are insane. Honestly, the production value of some of that stuff is even higher than pro sports. At the Dota 2 International this year, the entire floor of the arena was animated. It was pretty sweet.
Busting gamer stereotypes
Esports could become as widely accepted as traditional sports, but it's going to take time. The biggest hurdle it has to jump is public perception. People used to have this negative perception of gamers, thinking that they're white kids living in their mother's basements, but we're beginning to see that stigma break. Nearly half of US gamers are now women, and more youth of color play video games than their white classmates.
I experienced similar stereotypes and limitations when I was pursuing my goal of being a pro basketball player. As an Asian American, a lot of people assumed that I was never good enough to make it. There have hardly been any people of Asian descent drafted in the NBA, and we're generally under-represented in all pro sports. When I was playing in college, players would hurl racial slurs at me, and nobody ever took me seriously.
It was tough, obviously. I thought I should have got signed and drafted earlier. After graduating from Harvard, I didn't apply for a single job—I just kept going for the NBA. I put all my eggs in one basket, because I knew that if I didn't go for it, I would have regretted it forever. Eventually the Warriors signed me in my home state of California, but it wasn't until 2012 when I was playing for the Knicks in New York that I got my break.
People who want to be pro gamers are experiencing that same stigma. People tell them to stop taking it so seriously, and that it's not a viable career path. I was lucky enough to have a really good support system around me who wouldn't let me give up. While everyone else was saying I was crazy, my mom and dad said I should give it a shot. A lot of gamers don't have that same support around them.
The people who want to turn pro might be too ahead of their time. But I say you've gotta go for it. My high-school basketball coach would often say that the cream always rises to the top: If you're good, success will find you. You will be shown the way. I've always tried to stick with that. Even when things were discouraging or I was filled with fear, I would stay patient and positive. Having people around you that believe in you is really important.
There will always be naysayers, and you will always have doubters. But the more we talk about esports, the more and more it becomes normalized. You always have pioneers who are called crazy, but at some point the scales will tip, and society will have no choice but to adapt.
The future of gaming
We're already starting to see gaming go mainstream. The NBA now has an esports league. Nike just sponsored its first esports player, League of Legends' Jian "Uzi" Zihao, who will appear in an ad campaign alongside LeBron James. More than half of US mobile-phone users play games on their devices, and Minecraft alone has nearly 100 million monthly players.
We'll soon watch esports in some of the same way we watch pro sports. The streaming platform Twitch, where you can watch people play video games live online, has nearly a million people tuned in around the world at any point in time. That's more than what most cable channels see in a day. (And it's also probably why Amazon bought it for $970 million). Instead of esports making its way to ESPN and traditional televised entertainment, maybe other sports will learn from how esports are broadcast.
The industry will still have to overcome some issues if it wants to scale. There is a lack of standardization and a governing league, for instance. Each game—Dota 2, Fortnite, League of Legends—is owned by its publisher, and publishers handle how the games are played and how competitions work. Without an organizing structure, it can be hard for players to find stability or protections that they may have if they were in the NBA or another professional sports league. Contracts are also often fickle, tied to prize money rather the value of the player. If we can continue making the gaming experience better for the players, the watchers, and the developers, then there's no telling how big this could get.
I still play Dota with my brothers. All throughout my career, we've always played everywhere together. We live in three different cities now: My little brother is in Taiwan, my older brother works in Brooklyn, and I'm here playing for the Hawks in Atlanta. It doesn't matter what time it is—morning in Asia, after a night game here in the US—we'll always jump on a text thread and work out when to play.
It's more than just a game to me. When things are going rough, it's a way to stay together. When I had a season-ending knee injury last year, that first night when I came back home, bandaged up and depressed, my cousin, trainer, and brother were already waiting there with their computers.
They knew that I was going to want to play. And I'll always keep playing.
This story is part of What Happens Next, our complete guide to understanding the future. Read more predictions about the Future of Gaming.