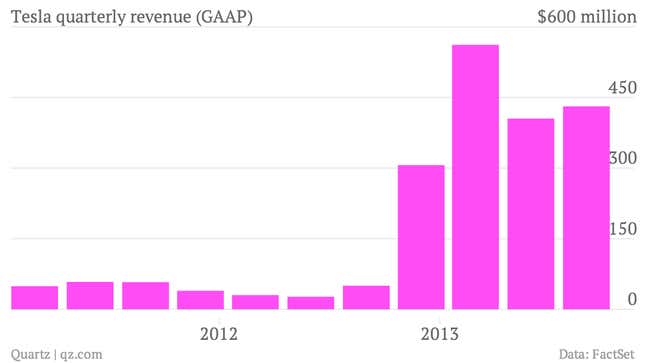 This item has been corrected.

The numbers: Good. Tesla posted a quarterly profit of $16 million, or $0.12 per share. Analysts were looking for $0.08. Revenue was $603 million ($431 million when revenue from deferred leases is excluded) beating expectations of $547.5 million. Its profit margins expanded to 21% from 14% in the previous quarter. Tesla's notoriously volatile and heavily shorted shares were hitting record highs ahead of the result, so it probably would have taken truly heroic results for them to go even higher. The stock has fallen by about 10% in after hours trading.
The takeaway: The company finished the quarter with a record 5,500 deliveries, including 1,000 to European customers—positive news given that its expensive vehicles are even more expensive in Europe compared to the US. The company expects to sell around 6,000 model S vehicles next quarter, bringing global sales to 21,500 for the year.
What's interesting:  As Tesla's cars get more popular, it needs to keep expanding its network of "supercharger" stations, which allow free charging of Tesla vehicles along the North American  west coast, from Vancouver to San Diego. (It takes about 20 minutes for one of Tesla's cars to be half-charged at a Supercharger station, which is several times faster than most electric-car chargers, though still slow compared to filling a gas tank.) By the end of the year, the company hopes to establish free charging stations across the country and along the East coast. Its European plans are even more ambitious. By the end of 2014, the company expects all drivers in Germany, Belgium, Austria, Denmark, Luxembourg and about 90% of England, Wales and Sweden to be within 320 kilometers of a supercharger station.
Correction (Nov 5): A previous version of this post said that Tesla had posted its second quarterly profit ever. Using the company's preferred accounting measures, Tesla has achieved profitability for three straight quarters. But using stricter, Generally Accepted Accounting Principles (GAAP), it only achieved a profit in the first quarter of this year.