California's Department of Motor Vehicles (DMV) on Tuesday (Oct. 30) issued Waymo the state's first permit to test self-driving cars on public roads without a human in the driver's seat. Alphabet's autonomous-driving subsidiary has had permission to test autonomous vehicles with safety drivers since 2014, but it can now dispense with humans to test three dozen test vehicles in its fleet.
In a blog post, Waymo called the development a milestone for its self-driving fleet, which has driven 10 million autonomous miles (and 7 billion simulated miles) since 2009. California is the company's second test region; since 2017, it has also had a program in Phoenix, Arizona.
The California test area is limited to the core of Silicon Valley—near Alphabet's headquarters in Mountain View—and the surrounding towns of Sunnyvale, Los Altos, and Palo Alto. The permit allows testing on streets and highways with speed limits of up to 65 miles per hour at any time of day, as well as during inclement weather.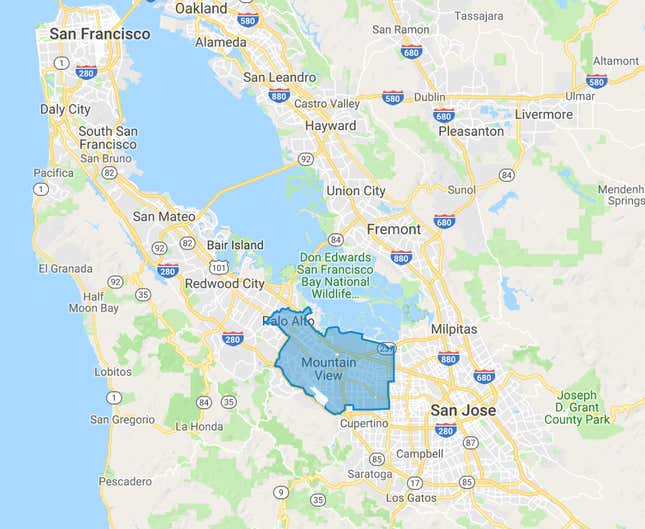 Self-driving cars still have a checkered driving record. In March, one of Uber's self-driving vehicles struck and killed a pedestrian despite the presence of a safety driver. In June, one of Waymo's autonomous minivans crashed after its driver accidentally turned off the self-driving software when he fell asleep at the wheel.
Although Waymo is the first to go driverless, California noted that 60 other manufacturers are approved to test autonomous vehicles with safety drivers in California. The state is requiring all manufacturers who obtain a permit to test autonomous cars without safety drivers to notify local governments of testing in their area, coordinate with local law enforcement, communicate with passengers, and monitor the test vehicles at all times.