There are more than 30,000 North Korean defectors presently living in South Korea. None of them has any real way to speak to the loved ones they left behind.
In the North, information is tightly controlled. Activist groups in South Korea have launched balloons across the border, carrying USB sticks and SD cards loaded with information about life on the outside for anyone with access to an illicit laptop. But internet access is withheld from all but a handful of top government officials. International phone calls are forbidden. The media is state-run, and all TVs and radios are configured by the regime to pick up official broadcasts only. Those caught tuning into unapproved programming face severe penalties.
Still, as many as 1.8 million North Koreans, or about 7%-8% of the population, illegally consume foreign media on a regular basis, according to Kim Seung Chul, a former Pyongyang resident who defected to South Korea in 1994. Kim, a civil engineer by training, decided to flee after being sent to work as a lumberjack in Siberia. He made his way to Seoul and spent 11 years working for a research institute before setting up a small broadcast studio where he began beaming information into North Korea via shortwave radio.
North Korea Reform Radio (NKRR) was officially launched on Christmas Eve of 2007 and now broadcasts every day, from 5:30 am to 6:30 am and again from 11:30 pm to 12:30 am, the hours during which North Koreans are most likely to be secretly listening. The schedule regularly includes a mix of talk shows, weather reports, and current events, as well as explainers about market economies, political freedom, and the possibility, distant though it may seem, of national reunification between North and South Korea.
While any unfiltered information that gets to the North is crucial, perhaps the most important broadcast produced by NKRR is a daily segment called The Bluebird Post. Since it began in 2012, The Bluebird Post has aired recordings of more than 150 defectors reading letters to those they miss back home. There is no mail service between North and South Korea, and no way to actually send the letters. However, there is evidence that the messages have reached their intended targets. So far, Kim says, four or five North Koreans have actually defected to South Korea after hearing the show.
This week in New York City, Kim and two fellow defectors read a selection of the letters before a small audience at the Korea Society's Madison Avenue offices. One of the defectors, a woman now living in South Korea who asked to be identified only by her surname to protect family members who are still in the North, said her mechanically inclined husband had managed to "tweak" their state radio to pick up South Korean and Japanese broadcasts when the couple was living outside Pyongyang. According to Kim, some people build their own contraband radios from wood and whatever scavenged components they can find.
The letters read on The Bluebird Post—bluebirds are a symbol of hope and longing in North Korea, said Kim—are poignant and heartbreaking. More than once during the reading, the onstage translator began to cry.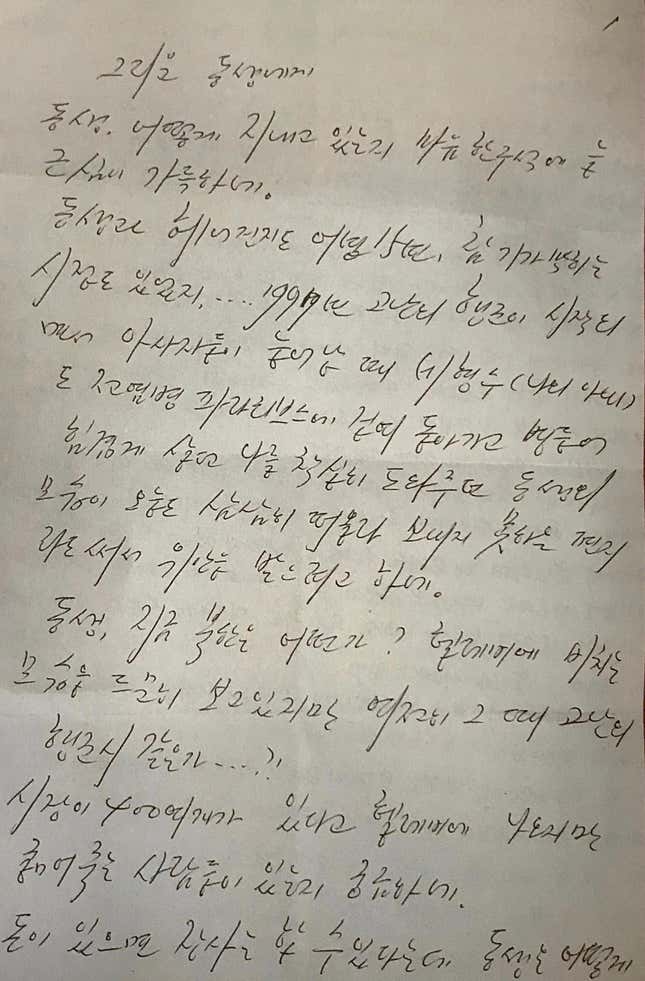 NKRR compiled 47 of the letters from North Korean refugees into a small companion book titled The Bluebird Post: Letters from North Korean Defectors to Those Whom They Miss. The foreword notes: "It is with a full heart and an earnest desire to connect these defectors with the ones they love that we share these stories, creating a chronicle of desperate screams reaching out into the North."
The following letter excerpts have all been previously broadcast into North Korea. The most recent aired just last month.
From North Korean defector Kang Yun-hui to her father
"Father, how are you? Mother and I are doing well here. She has almost healed from the illness, and I'm healthy. Don't worry about us, make sure to stay healthy. I want to help you a lot financially, but I'm sorry I can only help a little bit….The only thing I can do right now is pray. It's difficult, but let's endure it for the day we meet again. Don't worry about Mom."
From North Korean defector Chunshim Jeong to his mother
"Mother, it's me, Chunshim. It's been more than five years since I left home. I hope you haven't forgotten my voice….I heard that father passed away not too long after we left. I was so shocked. I can't even imagine how shocked you would have been. How sad you would have been. It breaks my heart to think that you are alone back at home without father in this world anymore….The day I left North Korea, he said, 'We won't be seeing each other again.'…He came all the way to watch me leave and waved goodbye. I still remember father on that day and I cannot sleep when I think about it….When the countries are unified, I will go back home with my son to see you. Please stay alive until then."
From North Korean defector Jang Sun-hee to her sister

"Dear Yeong-hee, how are you? I heard you became a widow at age 50. What happened? Thinking how you must have suffered so much, it aches my heart. Whenever I see clothes, I think of my siblings. Whenever I see leftover rice, I worry about my nephews and nieces. Over here, I see mountains filled with trees and nobody even takes the logs home…I have the urge to gather them and send them to the siblings who suffer without firewood so that they have a warm winter….Please stay healthy so that we can reunite. Let's have hope as we live on. I love you, my sister."
From North Korean defector Kim Ji-yeong to her sister

"Dear my little sister Sun-yeong….I still remember the words of your oldest son Eun-Chol. He was enlisted, and following the initial training, he was mobilized to build the Geumgang River Power Plant. While drilling a cave, it broke down, and a whole company of soldiers were buried. Eun-Chol was one of them. He came home after two days, but there was no medicine and nothing to eat. Before he starved to death, he said, 'Mom, Aunt, I think I'll get well if I just have a bowl of white rice.' Just thinking about how he died, it still rips my heart out."
From North Korean defector Lee Myeong-hui to her daughter
"My dear daughter Hye-seong, I can never forget the days we spent together….One day, we went to a mountain together to pick some gobi [a type of herb] and sell it at a market, we were out of coal. We borrowed some on credit and steamed the gobi to sell it. When you followed me to the market, you really wanted some Chinese moon cakes, so we each had one. On the way back, we had no money for transportation and rode for free, but the station authorities found out and fined us. That cost our coal money. Remember how the coal owner scolded us? She threw tantrums and demanded that we give her the small amount of corn husk powder [we had]. It's such a painful memory to revisit that I don't even want to recall what happened anymore….Whenever I see eggs and pretty clothes, it reminds me of you and breaks my heart."
From North Korean defector Lee Yeong-sun to her brother
"Kim Jeong-sun: I miss you, my dear brother….Whenever I think of you, I also think of my sister-in-law. Is she doing alright? Since you were married, I am thankful to her to this day. Because you love to drink and have a temperamental personality, she always has heartaches….When I was [still living] in the North, she often said you pour heart and soul to care for her when she was sick. It sounds like you're the best husband, but when I see that you can't control your emotions and yell at her, I thought she must be suffering so much….In the South, they say, 'Don't try to find something a woman wants you to do, just don't do what she dislikes.' They say these make much better husbands."
From North Korean defector Gya Lee to her daughter
"Namok, I miss you so much and I am very sorry. If you can hear this broadcast from wherever you are, please come to South Korea and find me. If you cannot find me, please contact this broadcast to find me….I love you, my daughter. I believe that we will be able to meet again. Until then, please stay healthy. I will stay alive until the day we meet. Goodbye."