Groupon announced today that it posted revenue gains in the third quarter.
Again.
That's enough cause for celebration for the troubled e-commerce firm, which has been besieged by management shifts and slower open rates on the emails plugging its deals. Groupon's $595.1 million in sales missed analysts' expectations but grew year over year. Compared to the same quarter a year ago, revenues were $568.6 million and earnings per share dropped $0.18.
While this quarter's 4.7% annual gain was significantly slower than the 32% growth posted in last year's third quarter, three other trends bode well for Groupon's prospects.
1. "Rest of World" sales are finally improving. 
This quarter, markets outside North America and Europe stopped bleeding revenues and held steady with flat year-over-year growth.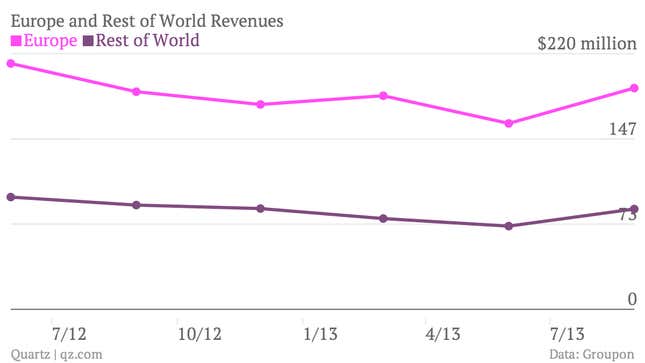 In March 2012, the company started breaking out its results into North America, Europe, and the "rest of world." That allowed it to show strong revenues across Europe, while the rest of the world steadily declined. Groupon must leverage its unified strategy, known as "One Playbook," to rally in Europe and reverse long-running revenue declines across emerging markets.
That strategy, says Blake Harper, an analyst with Wunderlich Securities, "should bode well for the difficulties in the [rest of world] segment."
The fourth quarter will be vital to proving those markets can continue to grow, or else Harper foresees Groupon aggressively restructuring or retiring from unprofitable areas.
2. Groupon revenue on goods (not deals) continues to increase as part of the total business. 
Groupon's direct revenue increased for the second straight quarter and now represents almost 34% of its total revenue.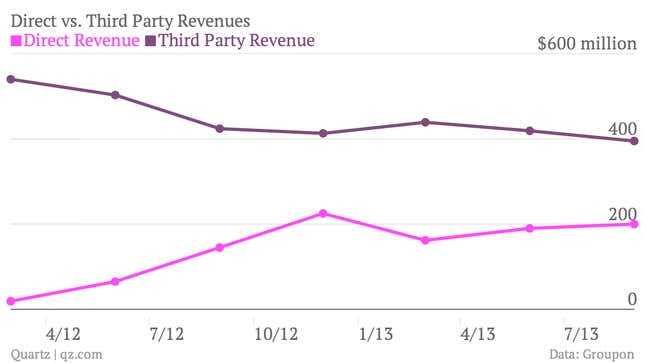 Groupon has been trying to expand its reach beyond local deals by selling goods directly to customers, effectively competing directly with online behemoth Amazon and smaller outlets such as Fab.com, Gilt Group and Zulily. Direct sales (under a division known as Groupon Goods) have increased as a share of total revenue and lessened the company's dependence on local deals, which could boost bottom line revenues and diversify the company's income stream over the long term. But, the current rising percentage of direct sales as a share of total revenue puts pressure on profit margins in the short term since shipping and warehousing products costs the company more than third-party deals.
"Groupon Goods margins could improve over time if Groupon is able to scale shipping and infrastructure costs, although we believe this will be a long-term development, if it succeeds," wrote RBC analyst Mark Mahaney in his quarterly earnings report.
3.  Mobile transactions are growing as a percentage of total sales. 
As of September this year, more than 40% of all Groupon transactions are completed on mobile devices, lessening its dependence on its email pushes.
With newly permanent CEO Erik Lefkofsky at the helm, Groupon has committed to a new "pull" strategy, moving the company away from email-dependent daily deals in order to pull consumers onto its website or mobile app to shop directly for deals. The success of this new approach is manifested in the rise of mobile sales.
"The big thing that I see: The purchases done on the mobile app are really the most valuable ones," says Harper. "A lot more discovery of local businesses is being done on those mobile devices."
Analysts will be eager to see this as a vindication of Lefkofsky's much-touted pull strategy, as Groupon weans customers off its old email model. But Lefkofsky concedes there's a long road ahead: "We still have work to do as we transform the business from our daily deal email roots to a full e-commerce marketplace."