Standard & Poor's cut France's credit rating by one notch, to AA from AA+. Of course, government officials immediately labeled the downgrade "inaccurate," as finance minister Pierre Moscovici said today.
Whatever the merits of S&P's analysis, credit ratings for large, widely followed countries like France have more of a political impact than an economic one. Thus, the downgrade's main purpose is to provide grist for critics of France's deeply unpopular president François Hollande.
French stocks and bonds wiggled a little in response to S&P's move, but yesterday's surprise rate cut by the European Central Bank had a bigger impact on French government bond yields than today's downgrade. Despite a rising tide of disapproval against Hollande's policies, the French government's borrowing costs have been relatively stable during his tenure.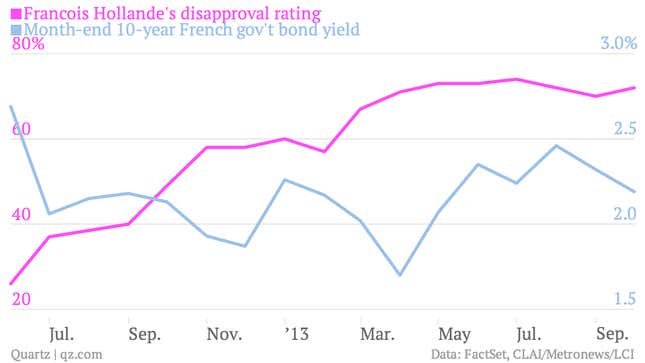 S&P is critical of the slow pace of reform by Hollande's government, in particular its reliance on hiking taxes instead of cutting spending to balance its budget. France's daunting tax burden has provoked protests from a broad swathe of society, from financiers to farmers and footballers.
S&P believes that French unemployment will remain above 10% through 2016, thanks in part to the country's exporters losing market share to rivals in Europe with more flexible tax and labor policies. An unexpectedly sharp decline in French industrial production, announced today, supports the view of an economy stuck in neutral. Following nil economic growth in 2012-13, S&P expects French GDP to record only 1% average growth in 2014-15.
In the grand scheme of things, it means little that one ratings agency now thinks that France is as creditworthy as Belgium and the Czech Republic (both AA) instead of Austria and New Zealand (both AA+). S&P's downgrade will do the most damage to Hollande's already dismal ratings—his party looks set for a drubbing in next year's elections for the European Parliament, and although it is a long way away, polls for the 2017 presidential election don't look much better.