The world's arbiters of building height are meeting today to decide if New York's One World Trade Center is, as it claims, the tallest building in the Western Hemisphere.
At issue is the pinnacle of the building, which brings it to a symbolic height of 1,776 feet, taller than the hemisphere's reigning skyscraper, Chicago's Willis Tower, which is 1,451 feet. The Council on Tall Buildings and Urban Habitat (CTBUH) generally counts architectural spires in determining official building heights, but it doesn't include "antennae, signage, flag poles," etc.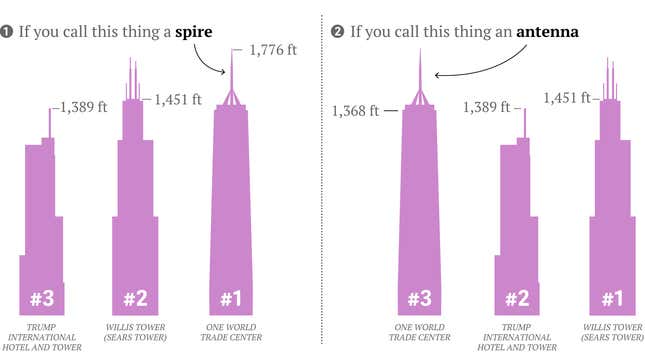 One World Trade's 408-foot antenna was stripped of its ornamental enclosure after the building's developers balked at the $20 million price tag. Had that been constructed, the antenna would have qualified as a spire, and there would be no question that One World Trade is the hemisphere's tallest building.
At today's meeting, representatives for the building will argue that the antenna still counts as a spire because it's integral to the building's design. Antony Wood, the executive director of the CTBUH, told NPR:
What it comes down to is this: what are we measuring? If we are measuring man's ability to put materials above the plane of the earth, then it should just be material, irrespective of what that material or function is. Or, are we measuring man's ability to put man above the plane of the earth? Are we going with the highest occupied floor? Or something in between?
The group is expected to announce its decision next week.