The "I voted" sticker, handed out to US voters at polling stations since the 1980s, has taken on a new life online—and it could be more powerful than ever.
Young people are notoriously apathetic voters, especially in midterm elections. However, early voting indicates that this election season, they're turning out at higher rates than before, due to a variety of reasons. They're even bragging about their ballots on Instagram, with hashtags, selfies, and specially designed graphic features, the new generation of the "I voted" sticker. This, researchers suggest, could help get even more people to the polls.
For one, the old-school "I voted" sticker capitalizes on the finding that people are socially motivated to vote: they want to be seen , or they know they'll be asked if they voted. They don't want to admit they hadn't gone to the polls, or lie about it, one study has shown.
Other research indicates that online political activity and social media platforms' election mobilization features, digital equivalents of the "I Voted" sticker, have influenced voting behaviors.
A 2018 study from the University of California Riverside, which looked at a large, nationally representative sample of US youth, showed that two different kinds of social media dynamics—behaviors that are friendship-driven, and identity driven (so based on interests or hobbies)—translate into real-life political activity, including voting.
Another study, by researchers from the University of California and Facebook, showed that in the 2010 congressional election, the "social transmission," or "contagion" aspect of Facebook's "I voted" button helped increase voter turnout (the study was somewhat controversial because users weren't informed they were being experimented on).
Instagram, where most young people spend a lot of their time, is likely to amplify these dynamics. It's all about bragging, and somewhere along the way, voting became something to brag about.
Users have been hashtagging their voting posts in various ways over the years, including #Ivoted, and #vote. Pop star Taylor Swift, whose call to vote in the 2018 midterms coincided with a spike in voter registrations this election season (we don't have a way of knowing how big her actual impact was), started on Oct. 19 her own hashtag, #justvoted. Thousands of users have taken up her call. In their entries, many users credited Swift with inspiring them to cast their ballots.
Other celebrities and influencers have posted their early voting and election day selfies as well, eliciting many comments of the sort: "I wish I was old enough to vote!"
The platform promoted voting through a voter registration drive in 2016 , and similar efforts during this election season.
"The informational aspects of [these features] are really important," said Rey Junco, senior researcher at the Tisch College of Civic Life at Tufts University (his organization, the Center for Information and Research on Civic Learning and Engagement, consulted with Instagram on the voter registration drive). The center conducted a survey of young people in several areas of the country, with its sample skewed toward low-income, minority respondents. Access to voting information was a big problem, the survey showed, and 60% of respondents got voting information from Facebook, while 19% did from Instagram. By comparison, only about 20% received physical reminders to register in the mail.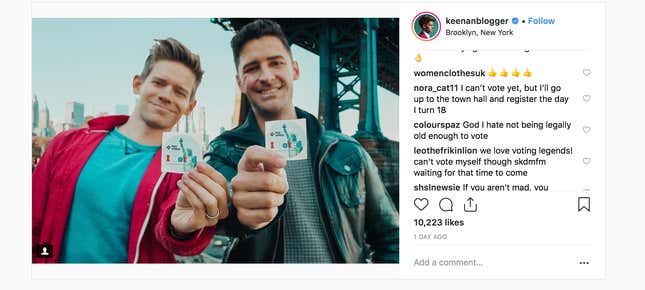 Two new Instagram features harness the power of the old-school "I voted" sticker, supercharging it by putting it into the platform's popular Stories format.
Individual users can add to their story an "I Voted" sticker provided by the platform, and placed prominently in the app (along with a multitude of similar ones uploaded by users).
On election day, Instagram is displaying a special "We Voted" story, showing users which people they follow used the sticker and voted (you can also find your polling station by using the feature). It's a real-time, video account of your friends and the celebrities you follow at the polls. The social pressure comes right at your fingertips.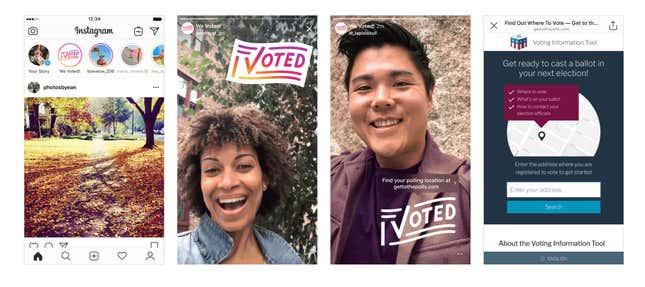 The dynamic here, said Joseph Kahne, author of the UC Riverside study, is a blurring of the social and political. "I don't want to say [it makes] voting cool, but a little bit less of a separate aspect of your life and a little bit more a part of your social life." (It also makes voting more fun, which is a proven strategy to bring people out to the polls).
A call to vote is no longer a public service announcement, or something coming from your school. You can see that your friends and people you admire are voting.
The physical sticker is already an effective motivator, Junco said, and social media gives it a much broader reach. "If you're walking around in a given day, you might see a friend or two with an 'I voted' sticker. Whereas you go to Instagram, and you see, depending on your number of friends, 10, 20, 50, 100 friends." And it's right there, on top of your feed.
This peer influence, when it comes to political behavior among young people, is crucial, and Junco said was particularly important for the lower-income population his organization surveyed. Among younger voters, the "buddy effect" is strong.
Both Kahne and Junco said Instagram's overall impact will likely be modest. It's part of a larger set of factors that in tandem are pushing young people to vote. In this election they feel they have more of a voice, and issues that directly affect them—like school shootings—are gaining in national prominence.
But the broader point is that the "slacktivism" narrative—that engagement in online political discourse doesn't translate into offline behaviors—does not apply here. Tweets, posts, selfies, and hashtags turn into real-world actions. For example, Junco said, the percentage of young people who attended a demonstration or march tripled between 2016 and 2018. It's all documented on Instagram.