Last year, the World Internet Conference—China's five-year-old gathering in Wuzhen to legitimize its walled internet—saw Apple CEO Tim Cook and Google chief Sundar Pichai at the podium. But in 2018, America's biggest tech firms are far less in evidence.
The absence of high-profile tech execs—apart from Qualcomm CEO Steven Mollenkopf, who spoke at the opening ceremony—may have been a factor in the secrecy around the attendee list (paywall) leading up to the three-day summit, which has the central theme this year of "creating a digital world for mutual trust." This year's agenda doesn't link out to details of who'll be at the different talks; by comparison, the agenda last year offered links to a full list of panel speakers and their affiliations.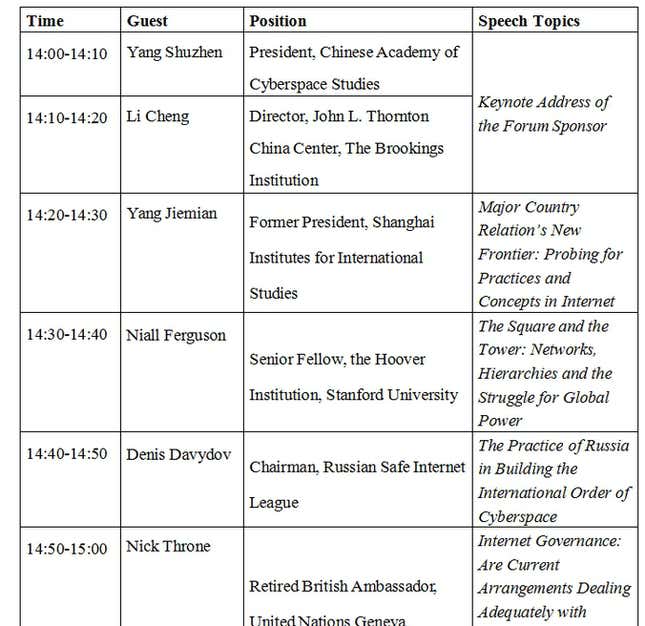 There are plenty of possibilities as to why tech giants like Apple and Google didn't send their top leaders to the summit. Cook defended his attendance last year by saying companies should work with China in order to change it, rather than "yell" from the sidelines (paywall). Google's Pichai is making a similar argument these days to defend the search giant's plans to return to China with a censored search engine.
But tensions between the US and China are nonetheless heightened these days, what with American leaders openly accusing China of stealing US technology, reports of Chinese backdoor technology (paywall) making its way into components used by US tech firms (although the tech firms dispute these claims), and US indictments against Chinese nationals for trade-secret theft.
In addition, there's the US-China trade war to consider. US tariffs now cover $250 billion worth of Chinese imports, and could expand to cover all of them; China, meanwhile, has tariffs on $110 billion of US goods.
Apple didn't immediately respond to questions about their attendance this year. Google declined to comment.
It's not just American CEOs who are giving the summit a pass. This year's meeting also features fewer senior Communist Party members.
Another cloud over the gathering is that Lu Wei, the former chief of the Cyberspace Administration of China, the central agency for overseeing internet policy, pleaded guilty to taking bribes last month. Lu, an unusually outgoing bureaucrat who enjoyed being courted by the world's tech CEOs, presided over the first World Internet Conference in 2014. He was put under investigation just ahead of last year's conference, but that didn't appear to cast a pall over the 2017 meeting.