The massive Philippine diaspora fuels everything from global shipping to US medical care to Hong Kong maid services, and a huge proportion of those workers are desperately trying reach their family and friends after Super Typhoon Haiyan devastated the island nation this weekend.
The storm is known as Typhoon Yolanda in the Philippines, where it has affected more than 4 million people, killing up 10,000, and leaving tens of thousands homeless, and many without power or mobile phone service. That last category is a crucial lifeline in the Philippines, where an estimated 10 to 13 million citizens are working abroad. While the Philippines is very much part of the developing world, with a per-capita GDP of $4,300, it has the mobile phone penetration of a much richer country, thanks to the overseas Filipinos who stay in touch with their loved ones and send money home.
Philippines mobile phone penetration, measured by the number of SIM cards per person, was 112% in March of 2013, compared to about 70% in India and 86% in Nicaragua, which have similar GDP per capita ratios. Smartphone sales growth in the Philippines was 146% for the 12 months ended in March, attributed to Filipino consumers' "growing love affair" with SMS, Facebook and Twitter.
The embrace of smartphones and social media was quickly seized on by storm victims, rescue workers and overseas friends and relatives quickly grouped on Twitter, and sorted into hashtags: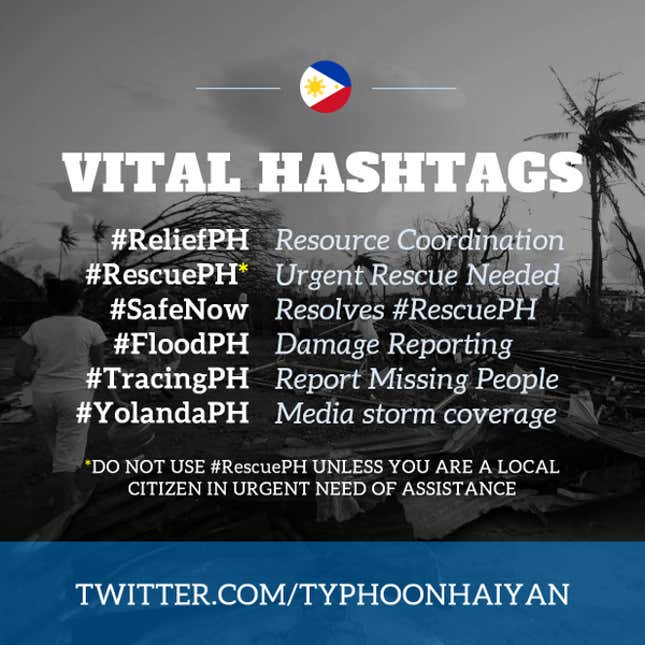 Many people took to Twitter to search for family members:
There were also hastily-organized Facebook pages for the specific areas, like Tacloban, one of the hardest-hit cities, and Samar. Relatives messaged local politicians on their personal pages and turned to Facebook pages of the Philippine Red Cross and newspaper the Inquirer. Google set up a Typhoon Yolanda person finder database that had about 50,000 entries by Tuesday evening.
For many of these concerned overseas relatives, though, answers were not forthcoming. Much of the country's telecommunications infrastructure was knocked out and electricity down in the days after the storm passed. Smart Communications, which has about 60% of the country's mobile phone subscribers, set up battery-power satellite phone stations in Tacloban to allow free calls, and deployed the Thuraya SatSleeve, which turns an iPhone into a portable satellite phone.
Without electricity to power cell phones and limited reception, some families in the Philippines turned to an old-fashioned messages, writing notes on scraps of paper that were then collected by a reporter from television station GMA, broadcast and published on its website.
"Don't worry we're all safe, except the wrecked house. Ging-Ging and Son was found dead," read one.
Many read simply "I'm alive!"