Rocket Lab has successfully carried out its first commercial launch, establishing a dominant position in the fast-growing market for flying small satellites into orbit.
The company's Electron rocket launched at 4:50 pm local time from the company's New Zealand launch site on Nov 11, carrying six satellites.
"We're thrilled to be leading the small satellite launch industry by reaching orbit a second time and deploying more payloads," CEO Peter Beck said.
The Electron—about a quarter the size of SpaceX's 70-meter tall Falcon 9—is designed to loft cargoes weighing 150 to 225 kg (330 to 496 lb) into orbit around the earth.
This size is no accident: Rocket Lab is poised to pick up business from dozens of well-funded companies building expansive constellations of small satellites that rely on powerful, miniaturized electronics.
The company's nearest competitors—including Richard Branson's Virgin Orbit; Vector Launch, founded by former SpaceX team members; and Firefly Aerospace—now face renewed pressure to get to orbit.
Headquartered in southern California, Rocket Lab was founded in 2008 under the leadership of CEO Peter Beck, and emerged as part of a DARPA program to develop small rocket engines for the US military. It won a $25 million grant from the New Zealand government, and last year raised $75 million from Silicon Valley investors, valuing the company at $1 billion.
As well as its unique rocket, which saves cost with ultra-light composite materials and a battery-powered turbopump, Rocket Lab is the only private firm with its own launch site, on New Zealand's Mahia peninsula. That, Beck says, gives it an advantage over other companies seeking to offer rapid and flexible launch options to satellite-makers; the company will also operate from a NASA launch site in Virginia.
Beck says he hopes the company will begin flying each week in 2019. The company launched its first rocket in January 2018, putting up satellites and cheekily launching an art project into orbit.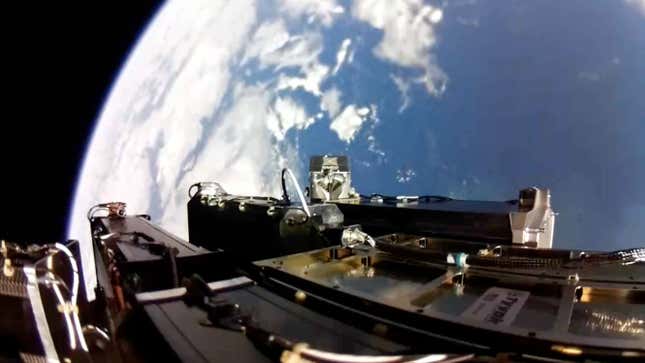 The company's second launch was expected in June, but minor problems with the rocket and then the launch site's radar systems led to delays—a typical experience in the space business. Now, the mission dubbed "It's Business Time"—a joking reference to another global Kiwi icon—finally marks the company's transition to commercial operations.
"With the Electron launch vehicle, rapid and reliable access to space is now a reality for small satellites," Beck says. To prove that, the company's next mission will launch ten experimental cubesats for the American space agency NASA in December.
The customers on Rocket Lab's most recent vehicle included Spire, a company which uses satellites to track ships, planes, and weather from orbit; Fleet Space Systems, which hopes to provide communications for internet of thing applications; and student satellites from the University of Irvine. Other Rocket Lab customers include the launch broker Spaceflight, Kleos Space, and Circle Aerospace.