After a contentious interaction between CNN's Jim Acosta and president Donald Trump at a press conference November 7, the administration revoked the veteran newsman's "hard pass," a credential that allows journalists regular (and unescorted) access to the White House and White House briefings.
This morning, CNN filed suit against the Trump administration in DC district court, demanding the return of Acosta's hard pass.
"The wrongful revocation of these credentials violates CNN and Acosta's First Amendment rights of freedom of the press, and their Fifth Amendment rights to due process," CNN said in a statement. "If left unchallenged, the actions of the White House would create a dangerous chilling effect for any journalist who covers our elected officials."
Named in the complaint are Trump, White House chief of staff John Kelly, communications director Bill Shine, press secretary Sarah Huckabee Sanders, the US Secret Service, Secret Service director Randolph Alles, and an unidentified Secret Service agent listed simply as "John Doe."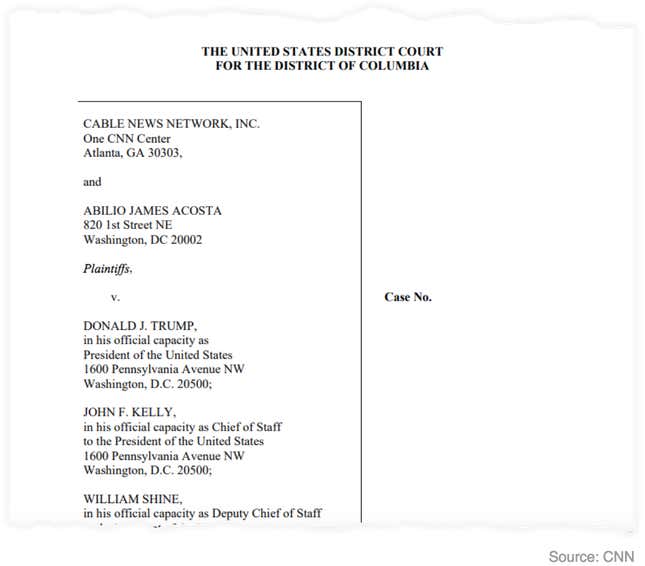 According to the complaint, Acosta returned to the White House after the press conference to do live coverage for Anderson Cooper 360. "But when Acosta arrived at the White House gate, a Secret Service officer stood in the doorway in front of the security booth that leads into the White House and blocked his path," the suit says. "The Secret Service officer refused to let Acosta enter the White House grounds, and instead told Acosta to surrender his hard pass. Acosta gave his hard pass to the officer and thanked him for his service."
Reporters without a hard pass "must wait in a security line with the general public and be screened before entering the White House and then be escorted by security around the press offices," says the complaint. "Without a hard pass, a White House correspondent simply cannot do his job."
Two days later, Acosta was barred from attending an open press event in Paris during Trump's visit to mark the centenary of the end of World War I, the suit says.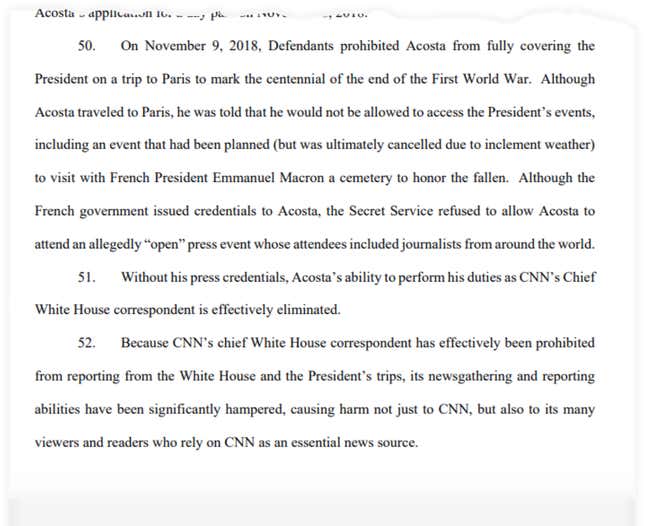 In CNN's "prayer for relief," i.e. what the network hopes to get out of the suit, it asks for Acosta's credentials to be restored or, "In the alternative, immediate restoration of Acosta's press credentials pending 'due process,' including but not limited to a formal written explanation as to why the pass is being revoked, an opportunity for Plaintiffs to respond to the allegations and be heard before a neutral arbiter, and a final written decision." Essentially, the network is asking the court to take the issue out of the hands of the White House.
"The Framers of our Constitution embraced a "profound national commitment to the principle that debate on public issues should be uninhibited, robust, and wide-open," CNN argues, "and that it may well include vehement, caustic, and sometimes unpleasantly sharp attacks on government and public officials."