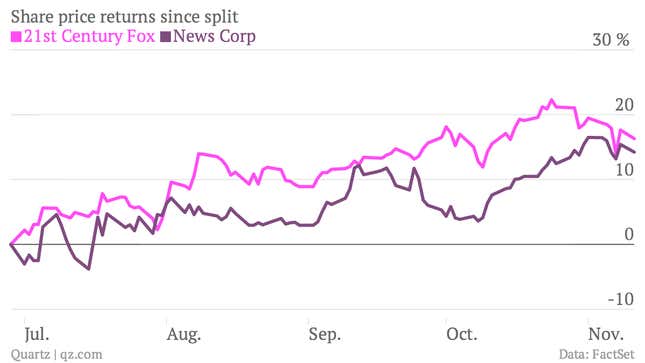 The numbers:  Weaker than expected. News Corp reported quarterly revenue of $2.07 billion, a 3% decrease for the portfolio of mainly publishing assets, which were separated from Rupert Murdoch's more profitable entertainment assets at the end of June. It was also below consensus expectations for $2.07 billion, according to FactSet. Net profit was $27 million, or $0.05 per share, which was in line with expectations. Shares have sunk by about 2.5% in after hours trading. News Corp's share price has largely kept pace with its sibling, 21st Century Fox Group, since the two companies split. It remains to be seen whether this will continue. The entertainment-focused company posted a similarly challenged set of numbers last week.
The takeaway: The company's newspaper unit (News and Information Services) led the way down, suffering a 10% decline in revenue. This was largely driven by Australia, where revenue shrank by some 22%. As the below chart from Credit Suisse shows, the Australian newspaper market is deep in the doldrums, and News Corp, which controls at least one-third of the industry there, is not immune to this trend.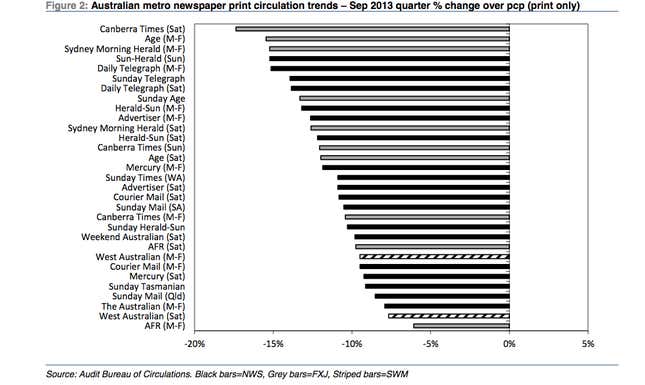 The earnings release noted "improvements" at the Wall Street Journal and wsj.com. But across News Corp's portfolio of US, UK and Australian newspaper assets, advertising revenue fell by 12%, while circulation and subscription revenue fell by 6%. Despite the revenue decline, earnings from the division were up 6%, which was probably due to the company's relentless cost control.
What's interesting:  A lot of people are watching to see how the new slimmed down News Corp fares, as a test case for a successful, publishing-based business model. But if its inaugural quarter is anything to go by, News Corp's future lies not just outside of print, but from publishing altogether. The fastest growing operating unit in the quarter was its digital real estate services—mainly an Australian-based real estate website—where revenue was up 11% and earnings were up 26%.