Whisper it quietly. Microsoft shares have quietly leapt to their highest levels in more than 13 years.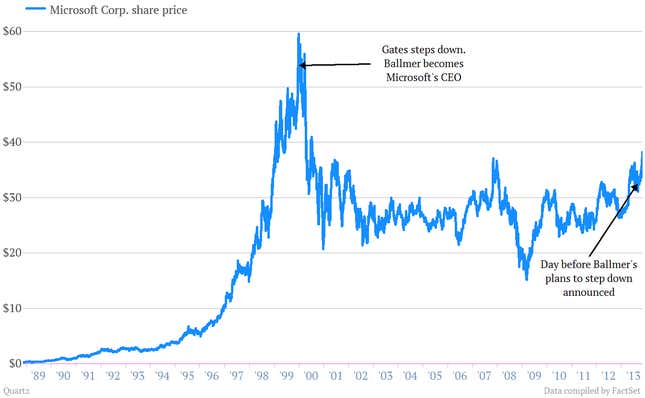 There are probably a few factors driving the stock higher: better than expected fourth quarter results, a dividend hike and $40 billion share buyback program, and continued strength in the company's enterprise business, among them. But the real reason appears to be Steve Ballmer's imminent departure, and chatter that Ford CEO Alan Mulally is firming up as the favorite to succeed him.
Beaten up Microsoft investors, who have seen the company waste billions on expensive forays into search engines and consumer technology, and still almost completely miss the smartphone and tablet revolution, are understandably encouraged by Mulally's shareholder-friendly turnaround at Ford. There doesn't seem to be much concern about the fact that the aeronautical engineer by trade has no technology experience, but if he does get the nod, he'd be surrounded by technology experts, including former Nokia CEO Stephen Elop, who moved across when Microsoft bought the Finnish company's handset business and remains a candidate for the top job himself.
Either way, the stock is up about 16% since Steve Ballmer announced he would step down on August 23. That means his 333,252,990 shares have appreciated by some $1.73 billion.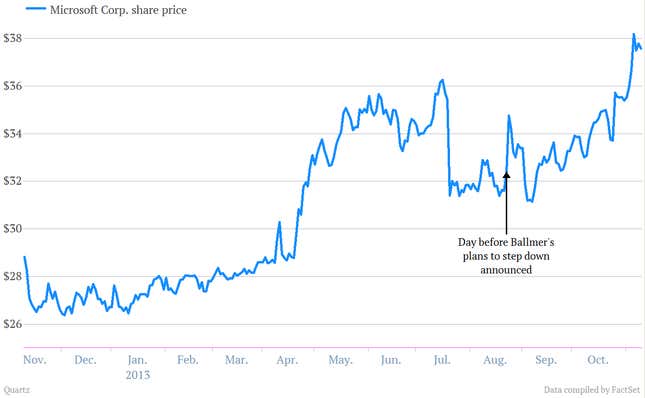 Ford shares are pretty much unchanged over the same period. No announcement is expected until next month, and Microsoft could still easily choose another candidate. But the market reaction suggests that if it does, it would be another case of Microsoft shooting itself in the foot and alienating shareholders.