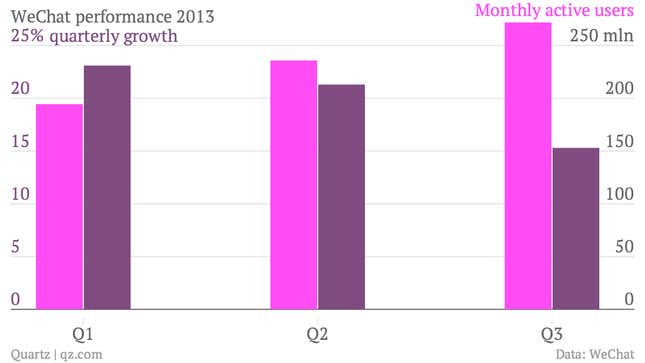 The numbers: Business as usual. Tencent, one of China's biggest internet companies, reported third-quarter profits of 3.87 billion yuan ($630 million), up 5.3% on the last quarter and 19.6% on last year. That's roughly in line with growth from the previous quarter, but not quite enough to satisfy analysts, who expected profits of 3.94 billion yuan. Total revenues stood at 15.53 billion yuan, up one-third from the same quarter a year ago.
The takeaway: Tencent is chugging along nicely, with both year-on-year and quarterly growth numbers nearly identical to those of the previous quarter. Indeed, even analyst estimates have remained steady, if unfulfilled, at just under 4 billion yuan. But growth in Tencent's messaging app WeChat, in which it has invested heavily and which is vying to become the world's leading messaging service, is slowing. Monthly active users (MAUs) on WeChat grew to 271.9 million, up 124.3% on last year and 15.3% quarter-on-quarter. In Q2, it grew a more robust 177% on the previous year and 21% on Q1.
What's interesting: According to Tencent, WeChat's growth this quarter was partially a result of adding games and payments to the messaging app. This is the first time Tencent has tried to figure out how to make money off the app rather than focusing simply on growth. (In an interesting parallel, Tencent's rival Sina yesterday reported doubled profits after it found ways, including games, to make more money off its Weibo microblogging service.) It seems to be paying off. The South China Morning Post reports that that WeChat helped Tencent rake in HK$ 637 million ($82 million) in sales on China's "singles day" by allowing users to easily pay for products in Tencent's 51buy online store directly through the app. China is also expecting faster mobile broadband in the coming months, which should encourage users to play more games through the app. WeChat's growth may be plateauing, but its revenues will be worth watching.