The Nintendo Switch, the company's latest console, is a smash success. But while I loved the Switch from the moment Nintendo released it in March 2017, I also warned off all but the most ardent fans: For $300, there just wasn't enough to play. By the 2017 holiday season, Nintendo and its partners had filled that void, releasing a swath of games that made the console a must-buy for many. But discounts were still few and far between.
This holiday season, retailers are at last pushing deals on the Switch. There are also even more games, so now might be a great time to go ahead and pick one up. Here's a quick rundown on some of the best deals and games:
Solid Black Friday deals
If you're in the US, there are a fair few retailers offering bundle deals on the Switch this year:
New games worth checking out
Since we checked in with the Switch last year, a number of new games have come out (or are about to be released) that will be truly exciting for Nintendo fans of all ages. Here's a quick rundown:
Pokémon: Let's Go, Pikachu! / Let's Go, Eevee! is the first real Pokémon for the Switch. It's essentially a 3D recreation of the original Pokémon Red and Blue games released for the Game Boy all the way back in 1996, with a new character following the directions of Professor Oak to traverse through the Kanto region, collecting as many Pokémon as possible in the goal of becoming a master trainer. Although there are differences—Pikachu now sits on your shoulder as you walk around, and you don't have to fight wild Pokémon to catch them anymore—it's an enjoyable trip down memory lane for older Pokémon fans, and likely a fun introduction to the franchise for younger players.
Nintendo Labo is a zany creation that only Nintendo could pull off: It's a series of different cardboard kits that kids can build and interact with on their Switch, ranging from tiny cardboard robots, to a fishing rod, and all the way up to a massive suit of cardboard and string you can wear. Each cardboard creation has a mini-game associated it, and building the designs is actually quite fun. It's perfect for parents to play along with their young children.
Nintendo Switch Online isn't a game per se, but the company launched an online portal that lets you play classic NES games, store save data to the cloud, and play friends over the internet for $4 per month or $20 per year.
Kirby Star Allies is a pretty standard Nintendo platform game, much like the company has been releasing since the first Super Mario Bros. game in 1985, but reviewers say it's enjoyable enough nonetheless, especially if you need a break from the more intense Switch games, like Zelda.
Super Mario Party is the eleventh (yes, really) installment in the Mario Party series. If you're not familiar with the games, they're basically like a 3D board game where you compete against friends or the computer to be the first to get to the end of the board. It's packed with crazy mini-games that are often quite challenging, and may well test some of your friendships.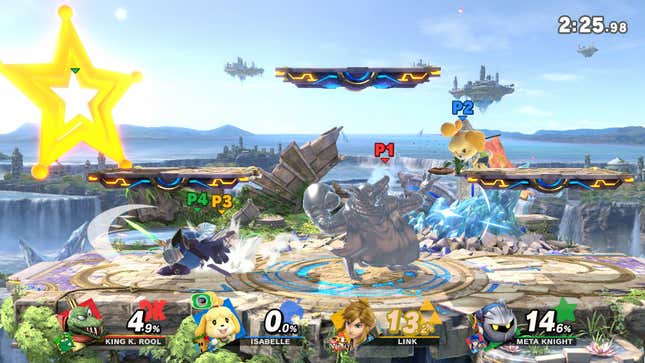 Super Smash Bros. Ultimate, the latest edition of the fighting game that draws on characters from across the Nintendo universe and other franchises, will be released on Dec. 7. It's been hotly anticipated since it was first announced in March, and is likely to be the new game that kids of all ages want to own so they can play with friends at sleepovers, parties, or in their college dorms (something Nintendo is already thinking about). Much like the latest Mario Party and Mario Kart, this game will likely be what brings new players, who might only want to play games casually with their friends, to the Switch.
Then there are the new classics, the excellent games that have made the Switch the popular console it is today, including The Legend of Zelda: Breath of the Wild, Super Mario Odyssey, and Mario Kart 8 Deluxe, as well as re-released Nintendo titles, like Donkey Kong: Tropical Freeze and Captain Toad: Treasure Tracker, along with third-party games like Skyrim, Fortnite, Rocket League, Stardew Valley, and Mario + Rabbids Kingdom Battle.