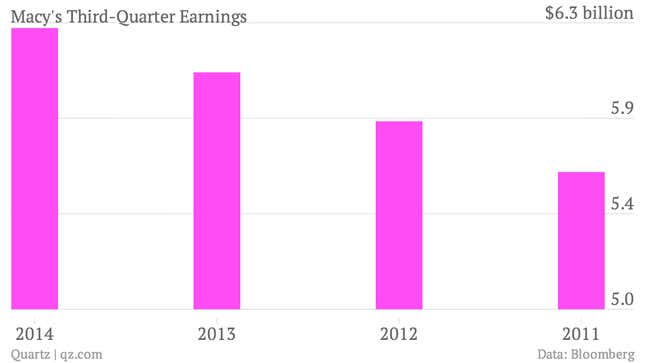 The numbers: Not too shabby. Macy's, the mid-tier US retailer, reported third-quarter sales of $6.27 billion and earnings per share of $0.47, up 31% on the previous year's quarter. That's the 15th consecutive quarter of improved earnings per share for the department store chain. The report also beat analysts' expectations of earnings per share of $0.39 and sales of $6.19 billion. Comparable sales, for online and brick-and-mortar outlets, rose 3.5%, up from 2.2% the same quarter a year ago.
The takeaway: Macy's is gaining sales as competitors like JC Penney continue to suffer. The company predicts the fourth quarter will continue its year-over-year gains as it invests heavily in marketing initiatives like its seasonal Magic of Macy's campaign and an additional 83,000 hires for the holidays. Analysts are warming up to the retailer, which also owns Bloomingdale's, a stock that 13 of 22 Bloomberg analysts list as a "buy."
What's interesting: According to CEO Terry Lundgren, Macy's growth this quarter was, in part, a result of the company's ongoing investment in its omni-channel execution—the integration of online, mobile and physical retail. Acing the omni-channel approach is imperative for the company's future growth, and its success will depend Macy's ability to improve offerings such as exclusives from Ralph Lauren and Tommy Hilfiger. But higher price points make it harder to use the company's 800 stores for "showrooming," said UBS analyst Michael Binetti, and puts it at a competitive disadvantage to Amazon.