By 2020, the Philippines will finally have its very own IKEA. At 700,000 square feet, it will be the largest of the Swedish furniture manufacturer's outposts of Scandinavian minimalist living.
"We have created the largest IKEA store in the world. I don't think anybody will ever make a bigger one. This is forever going to be the largest IKEA store in the world," said Christian Rojkjaer, head of IKEA Southeast Asia on Tuesday (Nov. 20), when the retailer launched its Philippines website.
The Manila store will be built in partnership with Philippine property developer SM Prime, which developed the Mall of Asia in the capital region's Pasay City, where the IKEA will be housed. In addition to a retail area on two levels with a cafeteria that can cater to 1,000 diners at a time, the IKEA complex will have space for warehousing to cater to e-commerce orders, and an integrated call center. It'll cost about $134 million to develop.
The store has been in development for at least two years, since IKEA famously loves to research living habits before entering a new market. In the meantime, lovers of IKEA in the Philippines have had to order from stores elsewhere in the region, such as South Korea or Hong Kong, via e-commerce sites like the Southeast Asia-based Lazada (controlled by China's e-commerce giant Alibaba).
The Philippines is expected to be a strong market for furniture, given its substantial middle class and real estate developments—the country's first billion-dollar startup is one that makes designer prefabricated homes. The population of 100 million has an average per capita income of nearly $3,700.
IKEA is known for its megastores. Its flagship store near Stockholm is about 680,000 square feet and one outside Seoul is about 635,000 square feet. It's unclear how these stores will compare to the Philippine one in terms of retail shopping area alone.
In 2018, IKEA opened 19 new stores, including two in new markets—India and Latvia, both in August. The store in the Indian city of Hyderabad is 400,000 square feet, while the Latvian store, on the outskirts of Riga, is about average for the retailer at 370,000 square feet. In all, the retailer has more than 400 stores globally.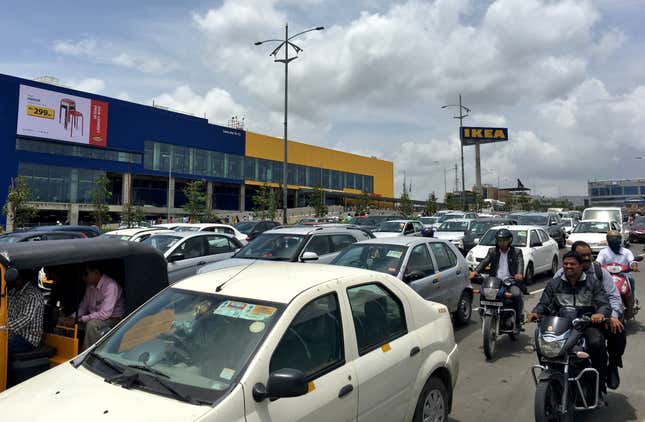 The  Southeast Asia team hasn't offered very many clues about how the retailer will "localize" its products, as it's done in other locations. For example, in South Korea it stocks "super-size" single beds and bibimbap, while the IKEA in Hyderabad offers its own version of the city's famous biryani.
The year 2020 won't only see the first Philippines store, but also the retailer's first locations in South America, starting with Chile, Peru, and Colombia. It will also open a small store—small for IKEA that is—in Tokyo's trendy Harajuku area that year.