Since the weekend, news outlets have been full of headlines and stories about what is happening at the southern US border, where the US border patrol launched tear gas against people trying to cross into the US—including women, children, as well as some people who threw stones towards the border. The headlines, and images, are all very similar.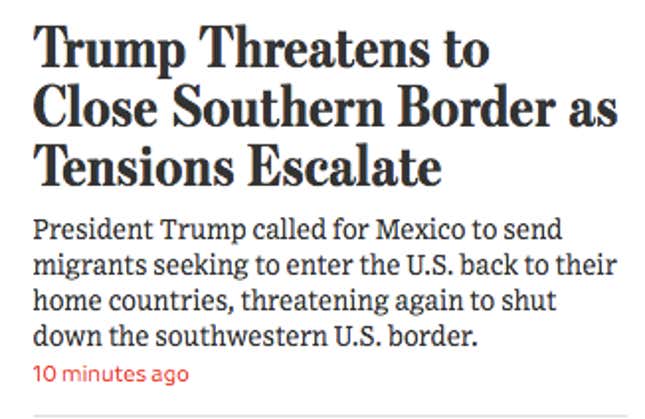 With the exception of the Wall Street Journal, which in the headline refers to "tensions" on the "southern border" without mention of the people involved, all other major US news publications refer to the caravan members as "migrants."
"U.S. closes border crossing, fires tear gas as migrants rush fencing in Mexico," goes one Washington Post headline. "Migrants Rush U.S. Border in Tijuana, but Fall Back in Face of Tear Gas," reads the New York Times home page. "US authorities fire tear gas to disperse migrants at border," says CNN. Fox News, without mentioning tear gas in the headline, said "Migrants march toward US border in show of force."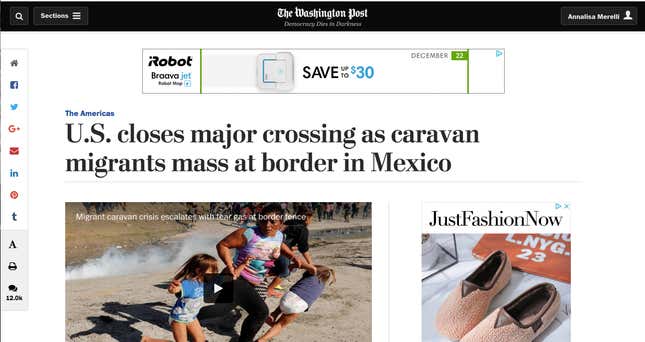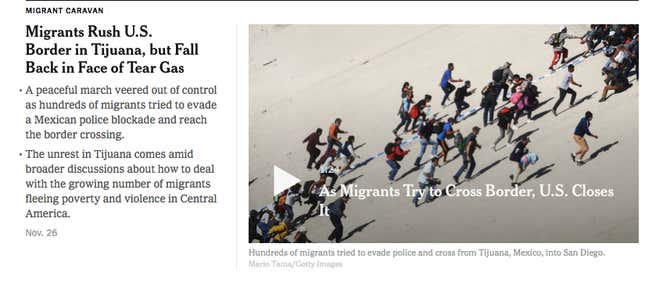 Though this headlines mention tear gas, giving a sense of the force with which the US border patrol is trying to disperse people on the other side of the border, they do not give an accurate picture of the tragedy, as they don't call said people "asylum seekers"—which, in large part, they are. Although "migrants" and "asylum seekers" aren't mutually exclusive categories—in fact, asylum seekers are migrants, too—the picture that emerges once it is put under focus that these people are at the border to seek refuge is rather powerful.
As the situation across the border turned conflict-like, Trump said on Nov. 26 that many of what he calls "flag waving migrants" coming to the border are "stone cold criminals." It's a baseless allegation—Trump has also previously claimed that there were terrorists among them, only to admit shortly after that he had no proof—and on two accounts: First, the data shows clearly that claiming caravan members—or other people trying to cross the border—are criminals is untrue; second, it is convenient for Trump's "America First" rhetoric, and wrong, to simply call caravan members "migrants"—they are, in large part, asylum seekers.
Who's an asylum seeker?
When it comes to seeking asylum, and the rights of those who do so, the law is quite complicated. The first issue comes from the fact that there is an international law, spelled out in the Refugee Convention of 1951 and the Refugee Protocol of 1967. Those establish the right of people whose life is under threat in their countries to seek shelter in a country that they deem safe.
To apply for asylum, people don't need to be from countries where there is an active conflict: Being personally at risk, as are homosexuals living in countries where homosexuality is punishable with jail or even death, can be reason to seek asylum.
Similarly, being from a country at war doesn't necessarily guarantee that someone will be granted asylum—people could be perpetrators of crimes in that country, for instance. Applications are considered on a case by case basis, and decided based on personal history. This is why pushing back people at the border without processing their requests violates refugee laws.
Do asylum seekers have to report at legal points of entry?
That's complicated. US law says that they should. But also that they aren't strictly required to, as it allows them to apply after entering the country, no matter from where. According to the United States Citizenship and Immigration Services (USCIS), people can apply for asylum either at a port of entry, or within a year of coming to the US. USCIS also clearly states that "you may apply for asylum with USCIS regardless of your immigration status" (unless the person is the subject of a removal proceeding). This is also in line with the international Convention on Refugees, which was heavily drafted, and approved, by the US, which says asylum seekers can enter a country of asylum regardless of immigration laws.
Why don't people fleeing Central America stay in Mexico?
Many of them do. Although its asylum system is not as robust as that of the US, Mexico has recently greatly improved its processing of asylum requests and provision of services to refugees or asylum applicants, including support in entering the workforce. So for those who find it a safe option, requesting asylum in Mexico is indeed an option, and one that is being availed of.
But asylum is first of all a matter of safety, and those seeking protection have the right to do so where they feel most safe, and since the asylum petitions are done individually and on the basis of personal or family history, what applies to one seeker won't apply to another. As laws stand at the moment it is an asylum seeker's right to try and get to a preferred country of asylum—so in this case, people fleeing Central America who might find Mexico dangerous, as they are often the victims of violence in the country, have the full right to proceed north.
Words matter
When it comes to people fleeing Central America, it's probably a so-called "mixed flow": Though some might be economic migrants, it's likely that most will apply for asylum—which by definition makes them asylum seekers, regardless of the outcome of their application. The way of knowing if applicants have a right to asylum is to process their applications; until then, there are no grounds to assume they are economic migrants, and the fact that some have referred to themselves as "international workers" doesn't necessarily mean they can't be asylum seekers too.
This means that when it tear gasses people away from the border's entry point—a practice banned from warfare since 1993, as tear gas is considered a chemical weapon—the US is essentially using violence to reject potential or actual asylum seekers.
History shows that media coverage is essential in shaping public perceptions of refugees and immigrants, and in giving people an understanding of the situations they are fleeing. This is what happens to the headlines above with more accurate labeling—a simple word substitution moves the issue from border protection to human rights violation:
New York Times: Migrants Asylum Seekers Rush US Border in Tijuana, but Fall Back in Face of Tear Gas
Washington Post: U.S. closes major crossing as caravan migrants asylum seekers mass at border in Mexico
CNN: US authorities fire tear gas to disperse migrants asylum seekers at border